Scroll down for updates
Members of HTC's One smartphone series have been among our favourite Androids for the past two years, and now the company is just weeks away from announcing a new model - the One (M9).
Expected to be announced at a media event in Barcelona on 1 March, a day before the Mobile World Congress trade show kicks off, HTC's latest flagship will reportedly launch alongside the company's first smartwatch. Here's everything we know so far.
[UPDATED] HTC One (M9): Design
This is where HTC has been head and shoulders above the Android competition in recent years. The M7 and M8 aluminium bodies exude a sense of quality lacking from Samsung and LG, while the curved back made the One (M8) one of the most comfortable smartphones of the last 12 months.
Known internally as the Hima, we expect the One (M9)'s design to follow in the M7 and M8's aluminium footsteps. Before recently shutting down their website, Gadget gossiper UpLeaks said the M9 would measure 144.3 x 69.4 x 9.56mm, making it marginally shorter and less wide, but slightly thicker, than the M8.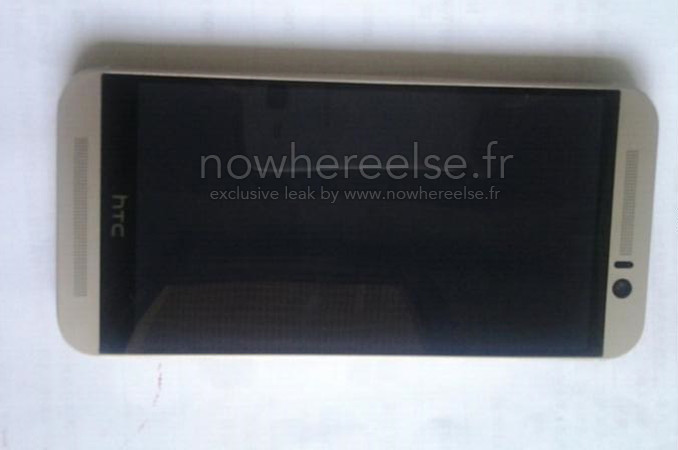 We're glad to see HTC hasn't been tempted by Google and the Nexus 6 to produce a huge 6in handset; rumours claim instead the company will announce a separate One (M9) phablet for those who want a bigger screen.
HTC made the Desire Eye waterproof without needing any flaps or covers protecting its ports, so we expect a similar treatment for the M9.
UPDATE: French tech blog Nowhereelse has published two photos claimed to be of the One (M9). They show an aluminium handset very similar to the M8, with dual Boom Sound speakers on the front - but with a different rear camera. Unfortunately, due to the framing of the second image, below, we can't be sure if there's a second Duo lens or not.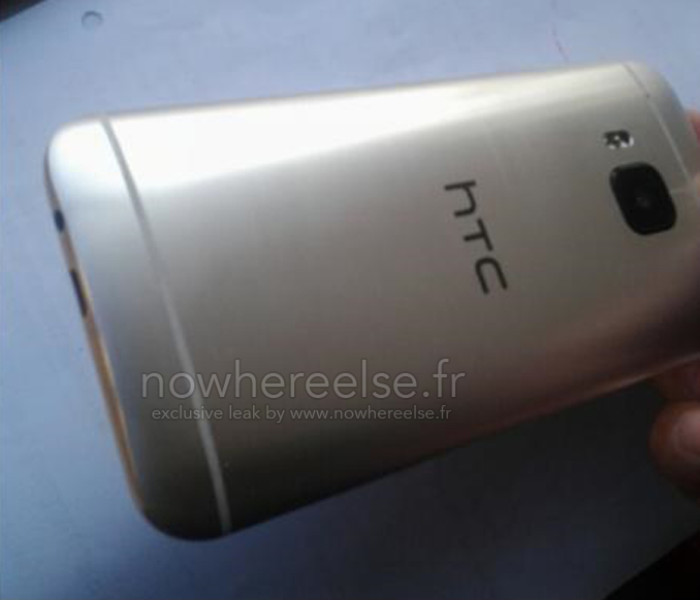 HTC One (M9): Display
Currently up for debate, the M9's screen is thought to be either five or 5.2in and the resolution will be either an M8-equalling 1080 x 1920, or 2560 x 1440, also known as Quad HD. The latter would see HTC match the LG G3 and Samsung Galaxy Note 4, but there is a valid argument that cramming so many more pixels into a relatively small screen has little benefit and drains the battery.
French technology blog Nowhereelse published a photo of what it claims to be the One (M9)'s display, with a Quad HD resolution and measuring 5.2in. But conflicting this is a results page from the AnTuTu benchmarking app, claiming it's actually five inches and has a 1080 x 1920 resolution.
If it were our choice, we'd want to see HTC take the Apple route of shunning Quad HD in favour of using the highest quality screen it can get its hands on.
HTC One (M9): Camera
HTC always strives to do something different with the One's camera, yet never quite hits the bullseye. The M7 had an UltraPixel sensor which claimed to capture more light, but could only produce 4-megapixel images; the M8 had a second Duo lens letting you refocus the image after it was taken, but again the 4MP limit remained and rivals managed the same trick with software alone.
For the One (M9) we suspect HTC will use something similar to the 13MP sensor found in the Desire Eye and new Desire 826. Although a rumour from Upleaks claims a Sony Xperia Z3-matching 20.7MP camera will be used instead. This (almost) fits with a claim from 4GNews that the phablet version of the M9, dubbed the Hima Ace Plus, will use a 20MP rear camera and move the M8's UltraPixel sensor to the front.
HTC One (M9): Processor
That AnTuTu benchmark score we mentioned earlier states the M9's processor will be the new 64-bit Qualcomm Snapdragon 810, and it'll come with 3GB of RAM. The processor was first shown off at CES earlier this month and will power the equally new LG G Flex 2.
The HTC smartwatch
Having shelved plans to release a smartwatch before the end of 2014, HTC's attention has once again turned to our wrists. Independent sources of both Bloomberg and tech blog Pocket-lint say a smartwatch will be unveiled at the 1 March event.
This will see HTC compete with wearables from Samsung, LG and Sony, but it isn't yet known if the smartwatch will run Google's Android Wear operating system, HTC's own, or something else entirely. Upleaks claims two HTC smartwatches have been cancelled, but "another wearable (not Android Wear) is in testing. MWC..."
It is understood the watch will be produced jointly with Under Armour, a sports and fitness brand which HTC announced a partnership with earlier this month. As such, we can expect the wearable to be closer to the fitness-centric Sony SmartWatch 3, than the Apple Watch, which is due to go on sale in the next few months.