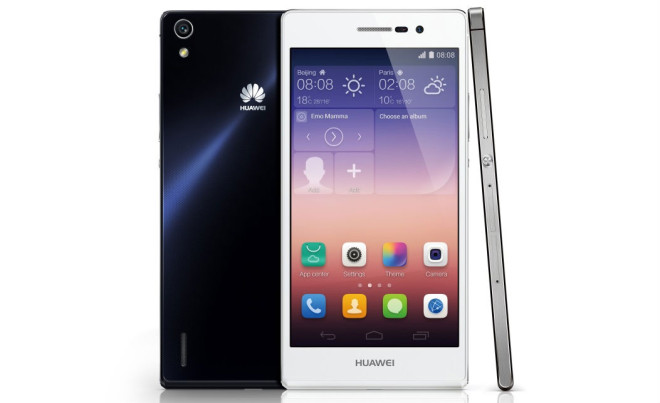 Huawei on Wednesday launched the Ascend P7, its new flagship Android smartphone which will help the company take on other giants in the mobile industry like Samsung and Sony. We compare the Ascend P7 with the OnePlus One.
Design
With a thickness of only 0.26 inches, the Ascend P7 is extremely sleek. To understand that size, compare it with the iPhone 5s (0.30 inches) or the Samsung Galaxy S5 (0.32 inches).
The handset's body uses a double textured finish at the back, which makes it nice to hold. The phone uses metal framing which is sandwiched between two layers of Gorilla Glass 3 in the front and the back.
All in all, with a fine combination of glass and metal, the Ascend P7 offers a premium, solid build.
The OnePlus One uses a plastic body. While it is sturdy and well built, it isn't as appealing as the more luxurious metal and glass build on the Ascend P7.
However, given that the OnePlus One is being sold on an extremely low price point, a plastic build is all that one can expect. The handset is somewhat thicker than the Ascend P7 at about 0.35 inches, which does make a significant difference when held.
Display
Both handsets use an IPS LCD capacitive touchscreen with a resolution of 1080 x 1920 pixels.
The Ascend P7 has a 5-inch screen which churns out a pixel density of 441 ppi.
The OnePlus One has a larger 5.5 inch screen which delivers a pixel density of 401 ppi.
Even though both displays have the same number of pixels, in the case of the One, they are spread over a larger surface area, resulting in smaller pixel density on paper. Users shouldn't find too much of a difference between the quality of both displays.
Hardware
The OnePlus One uses the quad-core Snapdragon 801 processor clocked at 2.5 GHz along with an Adreno 330 GPU. It has an abundant 3GB of RAM for effective multi-tasking capabilities.
The Ascend P7 features a Quad-core 1.8 GHz Cortex-A9, a Mali-450 GPU for graphics and 2GB of RAM.
On paper, the OnePlus One clearly has better hardware specifications in terms of performance despite its affordable price tag.
Imaging
While the OnePlus One has been able to trump most of its rivals with its solid 5MP front facing camera, which delivers great selfies, the Ascend P7 goes the extra mile to prove that it's a photographer's best friend with an 8MP front-facing camera that's capable of 1080p video recording and even a selfie panorama mode.
Move to its rear and you will find a 13MP autofocus camera with LED flash and 1080p video recording @ 30fps. The OnePlus One uses a comparable 13 MP shooter up front with Dual LED flash for those low-light situations.
Battery
The Ascend P7 features a Li-Po 2500 mAh battery with a rated battery life of 22 hours on 2G and up to 14 hours on 3G.
The OnePlus One has a larger non-removable Li-Po 3100 mAh battery which is superior when compared to the Ascend P7 on paper.
Software
The OnePlus One touts a customised version of CyanogenMod, which is CyanogenMod 11S. Apart from speedy performance thanks to stock Android, the OS offers users a heightened level of flexibility and freedom, allowing users to tweak and change numerous things on their smartphones.
The Ascend P7 comes loaded with Android 4.4.2 KitKat, skinned with an updated version of their home-brewed Emotion UI v2.3. This results in a simple, flat UI without an app drawer.
As with most manufacturers, Huawei has loaded the phone with its own set of cosmetic changes, apps and interface variations.
Overall
For users in search of a handset below £400 ($500 USD) that offers peppy hardware, best-in class selfies and a luxurious build, the Ascend P7 is a solid choice.
However, for those with a smaller budget, the OnePlus One is a great choice as it offers top notch specs and top notch imaging.
Power users and those who like customising their handsets will love the refined user experience offered by the CyanogenMod 11S. If you don't mind the plastic material that goes into making this phone, then it happens to be a steal at this price point.