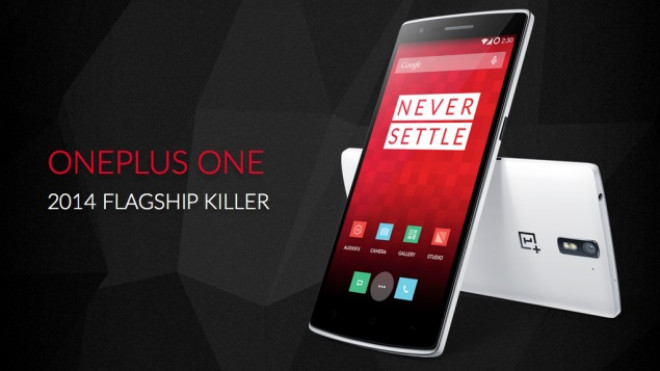 Last week, OnePlus came out with its first smartphone, the 'One.' Apart from touting CyanogenMod 11s out of the box, the handset also boasts top notch specifications. Many media outlets have termed it as a flagship killer. We compare its specs and features with that of another Android heavy weight, the Samsung Galaxy S5, to understand where the One stands.
Also Read: Check Out Our Comprehensive Video and Text Review of the Samsung Galaxy S5
Design
Both handsets use plastic, but they have certain differences that set them apart. The Samsung Galaxy S5 offers a premium finish with a soft touch plastic back that sports a textured design. The OnePlue One has almost no embellishments, features a very minimal design and has a clean, smooth hard plastic rear.
Both handsets are sturdy and well built despite their choice of plastic. Owing to this factor, metal-body handsets like the HTC One (M8) will have a strong advantage over the One when it comes to design.
Winner: Tie
Display
While both handsets use 1080p displays, the One offers more screen real-estate at 5.5 inches. This is significantly larger that the Galaxy S5, which has a 5.1 inch screen.
Talking about the technology behind these displays, the One uses a LTPS (Low Temperature Polysilicone) LCD display. It also features TOL or Touch On Lens, which allows the display to be more shatterproof by negating the distance between the touch sensors and display panel.
The Galaxy S5 uses a Super AMOLED display, something that we have seen on previous handsets like the Galaxy Note 3. The result happens to be vivid colours that jump out of the screen. It churns out a pixel density of 441 ppi.
Despite the fact that both displays have the same resolution, the OnePlus One churns out a lower pixel density of 401 ppi since it has pixels spread over a wider surface area when compared to the Galaxy S5. When used, users won't really find a major difference in display quality owing to this factor.
Winner: Tie, since both displays are quite solid and because it comes down to what kind of screen size a user prefers. It is worth noting that because of its 5.5 inch display, the OnePlus One falls into the category of larger handsets like the Galaxy Note 3, which are geared towards power and productivity.
Hardware
Both handsets utilise the best processing options currently available to Android smartphones: the quad-core Snapdragon 801 processor clocked at 2.5 GHz along with an Adreno 330 GPU.
However, the OnePlus does have a solid advantage with its extra 1GB of RAM, taking the total to 3GB of RAM on board, as opposed to the Galaxy S5's 2GB of RAM in total. This feature alone should give the OnePlus One some solid advantages where benchmark scores are concerned.
Moving on to on-board and expandable memory, the OnePlus One has no options for memory expansion, but it makes up for this by offering internal storage options as great as 64GB (apart from a 16GB variant). The Samsung Galaxy S5 on the other hand, offers 16GB of internal storage, apart from an option to expand up to 128 GB with microSDXC.
Owing to the fact that the Galaxy S5 happens to be Samsung's flagship, it has some nifty, high-end features that you won't see on most other phones. The list includes a useful ultra power saving mode, which utilises minimum system resources to get things done, while offering huge battery savings in return. After this, there is a heart rate monitor at the back and a finger print scanner in the front.
Winner: Tie. While Samsung tries to offer additional cutting edge features, One sticks to the basics, and offers slightly better hardware for better performance.
Imaging
The Samsung Galaxy S5 uses a 16 MP ISOCELL camera that offers solid images. The OnePlus One tries to compete with a 13MP Sony Exmor RS sensor of the OnePlus is combined with a 6 parts lens with a f/2.0 aperture, dual LED flash.
Both handsets offer solid camera software packages that will allow for some stellar smartphone photography. However, the OnePlus One will be your weapon of choice if shooting selfies is your thing, since the handset packs a 5Megapixel shooter up front. The Galaxy S5 uses a 2.1 Megapixel in the front.
Winner: Tie.
Software
One of the domains where the OnePlus One truly shines happens to be with its software. The handset comes out of the box with CyanogenMod 11S, which happens to be a special release built for the phone. It features stock Android 4.4 Kitkat, a plethora of customisation options and other features like the ability to play FLAC files.
Other noteworthy features include voice command which lets you wake the phone up, pre-set gestures that help you launch your favourite apps and much more.
Samsung approaches the software side with its TouchWiz UI, which brings some new updates and features as well. They've added apps like MyMagazine, which is a secondary screen for news and social media aggregation.
Winner: OnePlus One. While Samsung's TouchWiz forces several of its features down user's throats, CyanogenMod offers users the freedom to customise the phone's software end to their heart's content.