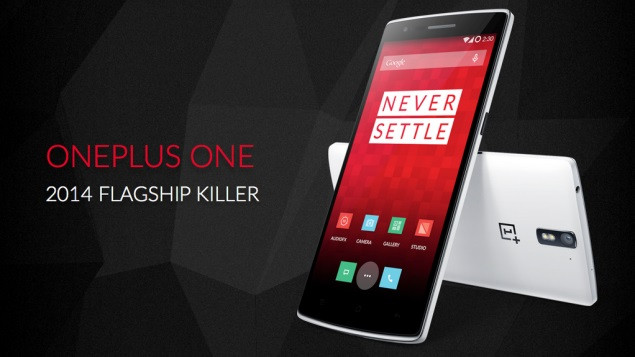 Earlier this week, we compared the OnePlus One to several high-end Android smartphones including the Samsung Galaxy S5, the HTC One (M8) and the LG Google Nexus 5. Now, let us put it up against Sony's Xperia Z2.
Design
While the OnePlus One has good build quality, it suffers an easy defeat in the first round since it uses a plastic body. The Xperia Z2 is easily more attractive and premium with its metal frame and glass back. While the OnePlus One has a nice choice of back covers, Sony's flagship offers more durability since it is dust and water resistant.
When it comes to ergonomics, both handsets are fairly large by virtue of their abundant screen sizes, with the OnePlus One (5.5 inch screen) being slightly larger than the 5.2 inch Sony Xperia Z2.
Winner: Sony Xperia Z2 owing to the superior materials that were used in its build.
Display
The OnePlus One has a 5.5 inch 1080 x 1920 IPS LCD display with a pixel density of 401 pixels per inch, which translates into an excellent viewing experience. The Sony Xperia Z2 on the the other hand is equally good with a 5.2 inch 1080 x 1920 IPS LCD display that has a pixel density of 424 pixels per inch.
Even though both displays have the same number of pixels, the OnePlus One will have lower pixel density or PPI on paper since it has the pixels spread over a large surface area. Both handsets have a large, sizeable screen that will be more than a handful.
Winner: Tie.
Hardware
Both handsets feature the best processing options currently available to Android smartphones: the quad-core Snapdragon 801 processor clocked at 2.5 GHz along with an Adreno 330 GPU.
Things get even more competitive when it comes to onboard memory since both contenders have a total to 3GB of RAM on board, as opposed to other high-end handsets like the HTC One and Samsung Galaxy S5, who only have 2GB.
Expect stellar performance from both handsets, as they should be able to handle any kind of app or task that you throw at them.
Moving on to storage, the Xperia Z2 has a strong advantage over the OnePLus One with its expandable storage via microSD, microSDHC, microSDXC up to 128 GB. The OnePlus One has no expandable storage, but internal storage options as great as 64GB.
Winner: Sony Xperia Z2
Imaging
The OnePlus One snaps solid images with a 13MP Sony Exmor RS sensor that is combined with a 6 parts lens with an f/2.0 aperture, dual LED flash. It can shoot 2160p video and has a solid 5MP front facing camera as well for HQ selfies. The Sony Xperia Z2 has a superior 20.7 megapixel camera and can also shoot 2160p video as well. It has a 2.2 megapixel front facing camera for some decent selfies.
Winner: Sony Xperia Z2 by virtue of its powerful rear imaging capabilities. However, the OnePlus One will be a darling to selfie addicts.
Software
One of the domains where the OnePlus One truly shines happens to be with its software. The handset comes out of the box with CyanogenMod 11S, which happens to be a special release built for the phone.
It features stock Android 4.4 Kitkat, a plethora of customisation options and other features like the ability to play FLAC files.
Other noteworthy features include voice command, which lets you wake the phone up, pre-set gestures that help you launch your favourite apps and much more.
The Xperia Z2 packs Android 4.4 with a few customisable tweaks that would not really enhance your experience in any special way.
However, if you are looking for something that is cosmetically appeasing, then the customisations packed into the Xperia Z2 might just win you over with their smooth transitions and well-designed themes.
Winner: OnePlus One
Overall
The Sony Xperia Z2 has a premium build, better primary imaging, options to expand storage and a few other solid advantages. If you don't mind spending a lot and are looking for a handset that can pass of as "premium" along with today's best hardware specifications, the Xperia Z2 is a great option.
The OnePlus One will appeal to power users who would value high-end specs at an extremely affordable price point. Apart from this, several users would love the fact that handset runs Cyanogenmod 11S out of the box, making it an extremely customisable and efficient device.