It was when Huawei said dragging your knuckles across the screen is a feature of its new smartphone that will match the revolution of multitouch on the first iPhone that the cracks began to show.
At that point, the Chinese company was mid-way through hosting a global media event in London on 15 April to announce the new P8 and P8max smartphones, its two flagships which go up against the iPhone 6, Samsung Galaxy S6 and HTC One M9.
First impressions of the phones are very good; the P8 in particular has every chance of slaying giants with its blend of high performance, luxury design and low price; but the way Huawei presents itself feels confused.
A 90-minute press conference to reveal a new smartphone (the P8max was only mentioned in a press release emailed to journalists during the event) is simply too long. Huawei's chief executive Richard Yu is clearly very passionate about his business and the phones it produces, but his delivery style struggled to convey this to the hundreds of journalists watching from behind their laptop screens.
A muddled message of confusing descriptions and pregnant pauses
The P8 has a rear camera claimed to be better than the iPhone 6 Plus and Galaxy S6, with improved optical image stabilisation and the ability to shoot photos normally only possible with an SLR. But these genuinely impressive features were lost in a muddled message of confusing descriptions and pregnant pauses where the silent audience were expected to clap.
Carolina Milanesi, an analyst at Kantar Worldpanel, told IBTimes UK: "The pause for applause that did not come might reflect more what they believe is a great achievement and what the audience perceives as table stakes."
Further tedium set in when Yu covered in frustrating technological detail how the P8 is better than its Apple and Samsung rivals, and how its rear camera doesn't protrude like the others. Next up was how the P8 automatically adjusts phone numbers to accommodate for international dialling codes when you're abroad, and how when near to the company's Talk Band B2 wearable it doesn't need unlocking - a feature baked into Android for some time.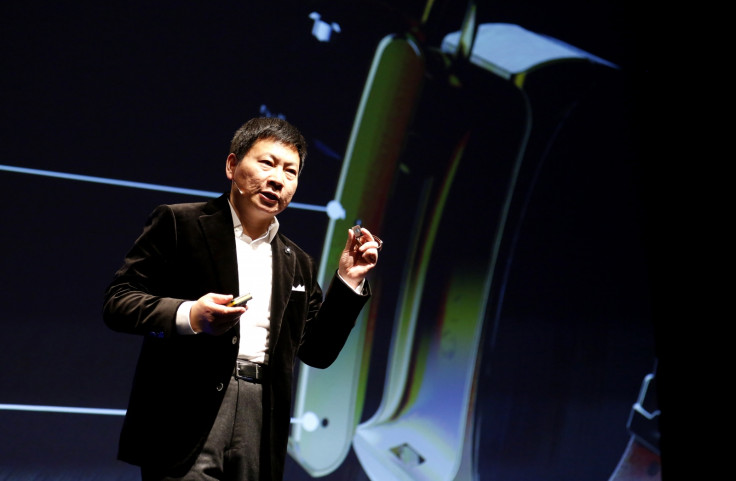 Samsung's use of Gadget Show presenters may not be to everyone's taste, but they are people from a technology background who are well-versed in stagecraft and appeal in a fun and engaging way with a Western audience. Even Apple has gained a sense of humour with Phil Schiller and Eddy Cue providing an entertaining double act - albeit one with an unhealthy obsession with dad jokes - to replace the charisma chasm left by Jobs.
Huawei's last three flagship events have been hosted by former Blue Peter presenter Zoe Salmon who described the new phone as one "to help dream makers ignite infinite creativity and make it possible."
Xiaomi and a different approach
Salmon can't be blamed for following the script given to her, but the style Huawei goes for each year is one which doesn't fit with the journalists, analysts, buyers and business partners in the room; these people aren't easily won over by creative marketing speak. Fellow Chinese company Xiaomi uses Hugo Barra, vice president and former Android executive, for all of its media work outside of China. Barra delivers in a way Western audiences are familiar with, and which could be key to Xiaomi's success beyond its home country.
It would be unfair to suggest Yu must improve his English and stagecraft to Jobs-esque levels, but perhaps including more members of the Huawei team who can speak efficiently and with flare about each aspect of their phone - the camera, the software, the design - is what's needed to get the room's attention and keep it for over an hour.
But swapping out Yu for more charismatic alternatives isn't a straightforward solution to spice up Huawei's press conferences. Mobile analyst Dominic Sunnebo of Kantar Worldpanel told IBTimes UK he felt Yu's presence "helped add a real sense of authenticity" to the event.
"The question over whether Asian brands looking to entice Western audiences should use local spokespeople is not straightforward," Sunnebo admits. "A Western spokesperson might have been clearer in parts, but potentially would lack the authenticity of someone based out of Huawei HQ Shenzhen."
Facing an uphill battle
Its press events may lack the polish of Apple's, but Huawei's brand image is improving quicker than many people realise. According to Sunnebo, half of the German population are now aware of Huawei; in Spain it is 49%, and in the UK it's 36%.
Rob Kerr, a mobiles analyst at uSwitch.com exercised caution: "Although Huawei has long manufactured successful phones for networks under other names, it's not a well-known brand in the UK, and so it faces an uphill battle to assert itself in the British market. With previous models, adoption was an issue with only a few networks and retailers offering the Ascend P7 to consumers.
"Time will tell if 2015 is the year of the Huawei in Britain. It has performed well overseas, and with a handset as strong as the P8 there's no reason why it shouldn't succeed here if priced right."