TalkBand B2 Review
Everyone is making fitness trackers these days. From those who have been in the game a while like Fitbit and Garmin, to newcomers like Sony, Samsung and even Xiaomi.
TalkBand B2 Features:
Built-in Bluetooth headset
Sleep tracking
Leather and plastic straps
Water/Dust resistant
Android & iOS apps
Price: €199 (UK price TBC)
Huawei entered the market last year with the pretty awful TalkBand B1, but it is back in 2015 with a much revamped version - and this time it has a novel trick up its sleeve.
Huawei has decided that what everyone was missing from their fitness tracker was an integrated Bluetooth headset and so it has given us the TalkBand B2.
TalkBand B2: Design
The Talkband B2 is an odd looking fitness tracker. It doesn't look anything like a fitness tracker. It looks more like a bracelet.
At least the champagne gold version I tested does, especially when paired with the brown leather strap (there is a cream plastic strap also included in the box). There are also more sedate black and white/silver versions available
"Bling" was the word I heard most when I asked people to describe the TalkBand B2, which isn't an entirely positive view.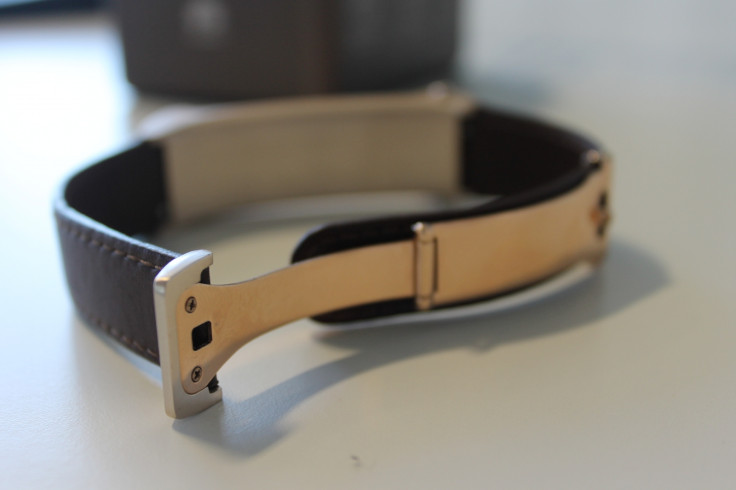 The inclusion of the Bluetooth headset makes the wearable necessarily slightly bulbous. While I thought I would catch it on my clothes more, I didn't really notice this to be a problem.
The screen is integrated into what is the front of the Bluetooth headset and looks quite slick, until that is you take it into any sort of daylight, when it becomes completely unusable.
The TalkBand B2 is quite well built, with the mechanism to release the Bluetooth headset giving a satisfying click when you press the two small buttons. Replacing the headset was also a painless experience, even when not looking.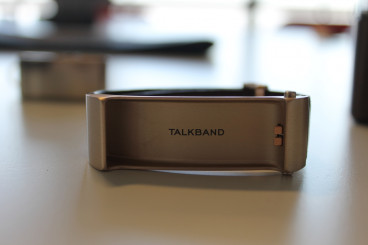 If you do have the headset in your ear however, the strap is left looking a little silly on your wrist.
TalkBand B2: Features
The TalkBand B2 pairs with your smartphone via Bluetooth. Setup is simple once you have downloaded the Huawei Wear app and inputted some basic details (age, weight, height etc).
Like most fitness trackers, the TalkBand B2 will measure your distance travelled, steps taken, hours slept and calories burnt. You can scroll through each of these on the touchscreen and you also get a stopwatch feature you can control by tapping the screen.
You can set it up to notify you when you haven't been active for a set period of time, your wrist buzzing and a little man appearing on the screen waving at you to get off your ass.
You also get rudimentary call notifications, with the name or number of the person calling you scrolling across the screen as the TalkBand B2 buzzes.
And that's about it. There is nothing revolutionary here in terms of fitness or sleep tracking but you will get basics.
TalkBand B2: Bluetooth headset
Of course the big selling point here is the Bluetooth headset. While some fitness trackers and smartwatches let you make and take calls by talking into your wrist, Huawei obviously thinks this is not the answer.
The headset comes with three earpieces (small, medium and large) to suit most ears, and while it's not hugely comfortable or secure, the headset did stay in my ear without too much fiddling.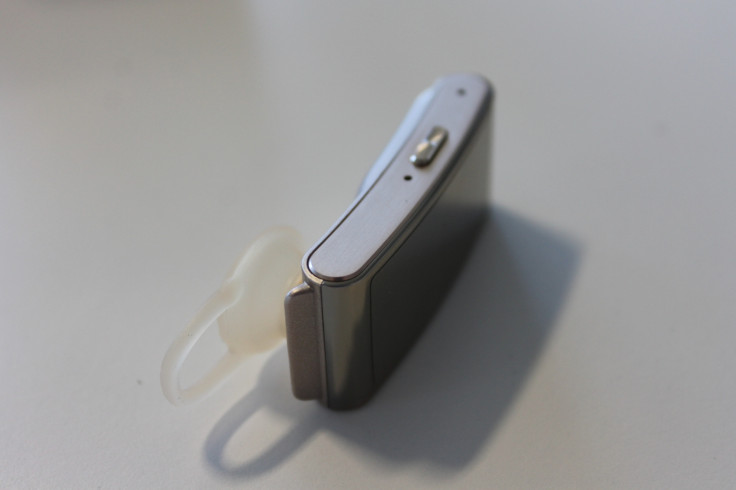 Performance-wise I was relatively surprised, though only because my expectations were pretty low. I was able to hear people calling me pretty clearly even when outside on a busy road or at a train station. The people I was calling didn't report many problems hearing me, though the sound was a bit fuzzy.
Of course, aside from the sound quality, the biggest problem here is the fact that most people simply don't want to use Bluetooth headsets. I felt very conscious when answering calls that I was taking the Bluetooth headset from my wrist, and the shiny gold colour of the TalkBand B2 didn't help to hide its presence.
TalkBand B2: Software
The Huawei Wear app (available for iOS and Android) is very basic. It will give you visual representations of your activity and sleep patterns, allow you yo change your settings or integrate with third-party trackers like Jawbone's Up range.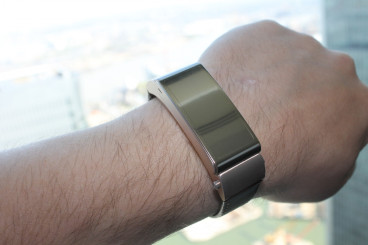 And that's about it. The best thing about it, is that it's not cluttered like Sony's Lifelog app, but a little more analysis of your data would be helpful.
TalkBand B2: Battery life
Huawei says the battery life of the TalkBand B2 is six days with a caveat that that is dependent on "wireless call usage time".
I am not sure that even if you never moved, never took a call or never touched the screen would you ever get six days out of the puny 95mAh battery powering the TalkBand B2.
I got two days of use, and that included taking a number of calls but no more than three. This is pretty poor for a fitness tracker with most dedicated products getting five to seven days charge in one go.
The small size of the battery does however mean charging it took just over an hour.
TalkBand B2: Value and Verdict
Huawei told me it has set no price or release date for the TalkBand B2 in the UK, but in the eurozone the gold version will cost €199 (£146) with the black/white versions costing €159. Initially expected to go on sale in April, the launch date is completely unknown at the moment.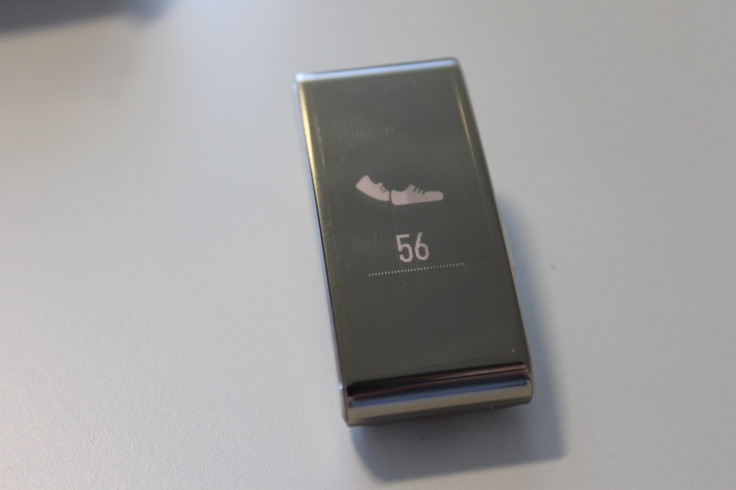 The price is likely to be a lot more than most dedicated fitness trackers, when you consider that you can get the likes of the Fitbit Charge HR for £119 or the Jawbone Up24 for just £60.
Of course neither of these has a built-in Bluetooth headset and so if you are looking to buy a fitness tracker and a Bluetooth headset then it is worth considering the TalkBand B2.
However, given the poor battery life, limited fitness and sleep tracking capabilities, and somewhat questionable design, I would suggest that buying dedicated devices might be a better bet in the long run.
Talkband B2 Scores
Design: 7/10 - It is definitely different, but won't suit many
Build quality: 8/10 - A feat of engineering to integrate the headset so well
Screen: 7/10 - Small and all but invisible in daylight
Software: 7/10 - The Huawei Wear app is pretty bare bones
Value: 7/10 - Likely closer to £200 than £150 when it launches, you would really want to need a Bluetooth headset
Overall: 7/10 - Huawei should be applauded for trying something different, but it just doesn't really work
The Good
It has a Bluetooth headset
Well-built
The Bad
Two-day battery life
Limited fitness tracking features