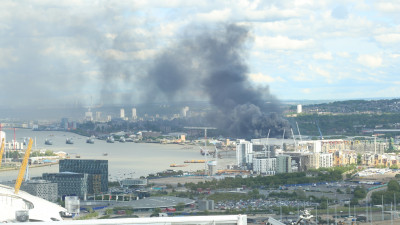 Firefighters are tackling a fire that has broken out at a warehouse in south-east London.
London Fire Brigade (LFB) said it received reports of a fire at 4.08pm at the retail park in Lombard Wall, Charlton, close to the Thames Barrier.
Ten fire engines and more than 70 firefighters are at the scene to tackle the blaze but a spokesperson said more will probably be needed to fully extinguish the flames.
Huge swathes of black smoke could be seen emitting from the area as the fire burned, with it drifting towards London City Airport on the opposite bank of the River Thames. The LFB is telling people who live or work nearby to close their doors and windows.
The LFB later tweeted an image of six burnt out lorries from the scene of the fire.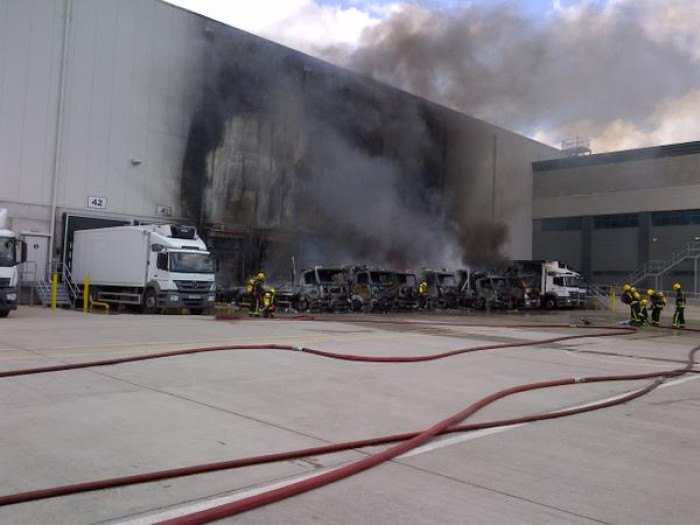 London City Airport said the smoke is not currently affecting flights but they are monitoring the situation.
A spokesperson added: "We're aware of a factory fire in Charlton. There is no impact on flights."
A London Fire Brigade spokesperson said: "10 fire engines and over 70 firefighters and officers have been called to a warehouse fire on Lombard Wall in Charlton.
"The fire is producing a lot of smoke which can be seen for miles around. Businesses and residents in the area are advised to keep doors and windows closed as a precaution. A number of cylinders are also believed to be involved in the fire.
"The Brigade was called at 1608. Crews from Greenwich, East Greenwich, New Cross, Deptford, Plumstead, Lea Green, Poplar and Shadwell fire stations are at the scene. The cause of the fire is not known at this stage."