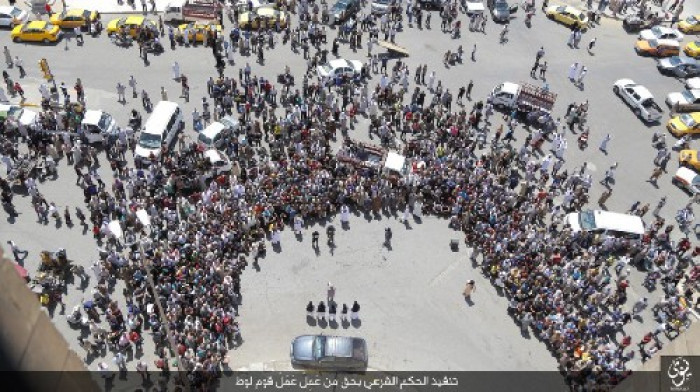 Photographs have emerged believed to show a huge crowd of people gathering to watch the Islamic State (IS) throw a man off a building for being gay.
The photos appear to show the Jihadists punishing a man they believe is gay in the Iraqi town of Mosul in the latest of a series of horrific attacks against homosexual men.
The images, which have not been verified, appear to show children among the large crowd of people waiting to watch the man be killed.
Militants wearing white-and-black militant-style clothing can be seen gathered around the man, whose face cannot be seen, along with a masked individual reading what is believed to be a statement condoning the man to death from a piece of appear.
The terrorist group did not release the moment they throw the man off the building – as they have done with previous propaganda videos – but instead show the man dead on the ground. IBTimes UK has decided not to include these pictures.
The pictures emerged as IS forces clashed with Iraqi security forces as they entered the University of Anbar in the western city of Ramadi.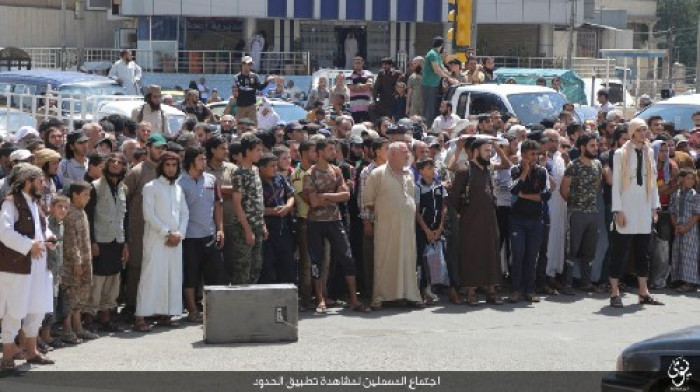 Ramadi, the capital Iraq's largest province of Anbar was previously taken over by the militant group in May.
"We announce to you the entry of the counter-terrorism forces into the University of Anbar. They are now engaging in battles to clean it up from the remains of Daesh [IS] and dismantling bombs and clearing roads," Iraqi security forces said in a statement broadcast on state TV.