Huge crowds of crying people lined the streets of Bangkok as a convoy led by a van carrying the body of Thai King Bhumibol Adulyadej drove to the Grand Palace. His body will lie in state there so that his subjects can pay their respects to the monarch revered by many Thais as their father and a demigod.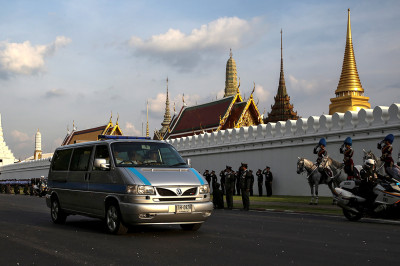 Bhumibol died on Thursday 13 October aged 88 at Siriraj Hospital, which had been his virtual home for years as doctors treated him for various illnesses afflicting his lungs, liver, kidneys, brain and blood. The convoy drove the short distance across the Chao Phraya River to the Grand Temple complex, a major tourist attraction replete with resplendent palaces, museums and temples.
Thousands of people clad in black sat four to five rows deep on both sides of the road, sobbing openly and bowing deeply as the convoy passed. Most held portraits of the king in regal yellow robes. Those without portraits held up baht banknotes, which all feature the king's face.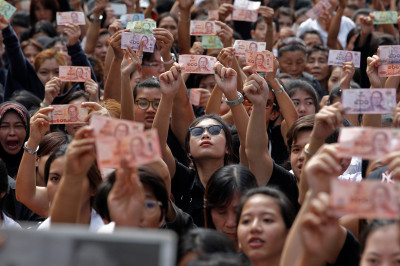 Most Thais had known no other king. Bhumibol, the world's longest-reigning monarch, had been on the throne for 70 years. His son, Crown Prince Maha Vajiralongkorn, who is to ascend the throne, followed the king's body in a yellow Mercedes van. Accompanying Vajiralongkorn was his consort, Lt Gen Suthida Vajiralongkorn na Ayudhaya. Behind them were dozens of cars.
The body will lie at the Temple of the Emerald Buddha, or Wat Phra Kaew, inside the Grand Palace complex for an undisclosed duration. No date has been set for the cremation. According to tradition, the bodies of Thai royals are placed in a golden urn. But palace officials said the tradition was no longer upheld and the king's body would be placed in a coffin with a symbolic royal urn near it.
Besides Vajiralongkorn, the king is survived by his 84-year-old wife Sirikit who also has been ailing and has rarely been seen in public in years. The couple had three daughters – Princess Sirindhorn, the most beloved royal after her father, Princess Ubolratana, and Princess Chulabhorn Walailak. Sirindhorn is unmarried; Ubolratana is divorced from her American husband and their two daughters live in the US; Chulabhorn is also divorced and has two daughters.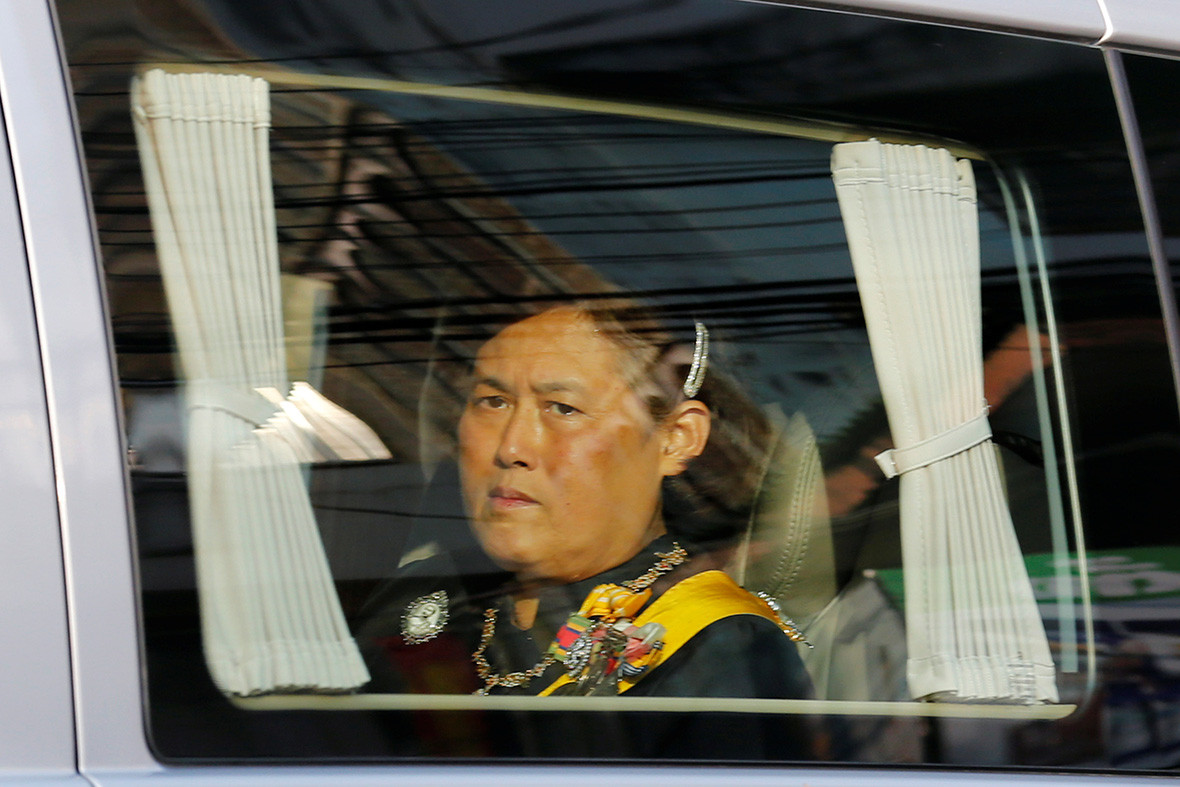 A one-year mourning period for the government has been declared together with a 30-day moratorium on state and official events. But no demands have been made of the private sector. The government has only urged people to refrain from organising entertainment events for a month, apparently mindful of the need to ensure that the sputtering economy does not suffer. Tourism is one of Thailand's biggest revenue earners, and entertainment remains an integral part of it.