UPDATE: The Nato has said the huge fire near its Turkish base in Izmir did not affect its installation. A Nato spokesperson sent a statement to IBTimes UK saying: "No fire took place in the Nato land component headquarters in Izmir, nor in areas adjacent to it. Our headquarters in Izmir is fully operational. The fire in question occurred in an area close to a Turkish naval base."
A huge fire earlier broke out near the military base in the country, which is still reeling under the aftermath of the failed coup attempt. Firefighters were battling to contain the inferno in western Turkey's Buca district. Local media reports say authorities suspect the fire could be a possible act of sabotage.
What started as a small fire in the nearby districts of Sahintepe and Mevkiinde on Sunday, 24 July, quickly began to spread due to strong winds. Local reports suggest several districts that are heavily populated are being threatened by the raging blaze. At least three helicopters and an aircraft have been deployed as part of emergency measures, reports CNN Turk.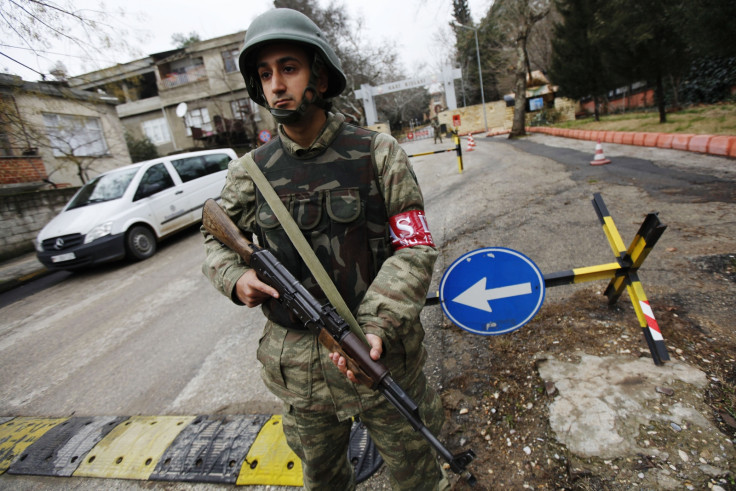 The inferno was previously thought to be burning perilously close to the US-Nato operated Allied Land Command (Landcom) military at Sirinyer (Buca) in Izmir. Evacuation process is thought to be underway in some districts.
Although Turkey hosts Washington's largest overseas nuclear weapons stockpile, all of them are believed to be stored at the Incirlik base, which is a US installation. However, the fire has broken out when Turkey is facing a volatile time following the thwarted coup attempt and severe government clampdown.
Story updated on 26 July to reflect Nato's statement.