Britain's support for Egyptian president Abdel Fattah Al Sisi is pushing more young Muslims towards al-Qaeda and other extremist groups, while damaging the country's credibility in the Arab world, according to human rights groups.
Human Rights Watch director Sarah Leah Whitson criticised Western support of the military leader who overthrew Muslim Brotherhood leader Mohammed Morsi in 2013 and held "sham" elections which he later won.
On the day that Amnesty wrote a damning report on Sisi's rights abuses for IBTimes UK, Whitson said that Egyptians had less rights and freedoms under Sisi than under previous dictator Hosni Mubarak, who was overthrown in the 2011 revolution, and criticised Britain's ambassador to Egypt, John Casson, for his praise of Egypt's economy at last week's economic summit in Sharm Al Sheikh, arguing that he "sounded like a Chinese official".
Casson, who did not respond for requests for comment by IBTimes UK, and foreign minister Philip Hammond both attended the Sharm El Sheikh summit to help lobby for British companies involved in projects in Egypt, where the Sisi government is launching a huge infrastructure and construction drive in an effort to boost the Egyptian economy after four years of instability.
Britain's investment in Egypt in 2014 was more than $5 billion, according to the British foreign office, more than the total investment from every other country. In January, a trade delegation led by the Government´s Middle East and North Africa minister Tobias Ellwood brought 40 British companies to Egypt to drum up more business.
'It is much worse than under Mubarak - he never killed 1,000 people in a day'
"[Sisi] has created a climate where protesting means risking your life. Even the most secular peaceful protesters are being gunned down in the street," said Whitson.
"I would say it is much worse [than under Mubarak]... Even when he had one million people protesting against him, he never killed 1,000 protesters in a single day," she added, referring to the breakup by government forces of a Muslim Brotherhood protest in Cairo's Rabaa al-Adawiya mosque, where up to 1,000 people were killed.
Mohamed Elmessiry, Egypt researcher on the North Africa team at Amnesty International, said that as a member of the UN Human Rights Council, Britain was obliged to speak out on abuses in Egypt. Amnesty estimates that as many as 15,000 activists from across the political spectrum have been arrested in Egypt since July 2013 and are being kept in extremely poor conditions.
'The truth is, it's far easier to make friends with Egypt than to stand up to it.'
Read Amnesty's damning insight into Egypt's human rights abuses here.
"Mass death sentences were handed down by courts after grossly unfair trails. There is [a] crack down on civil society. By not taking a position [Britain] gives the message that it is fine for the Egyptian government to continue these violations," said Elmessiry.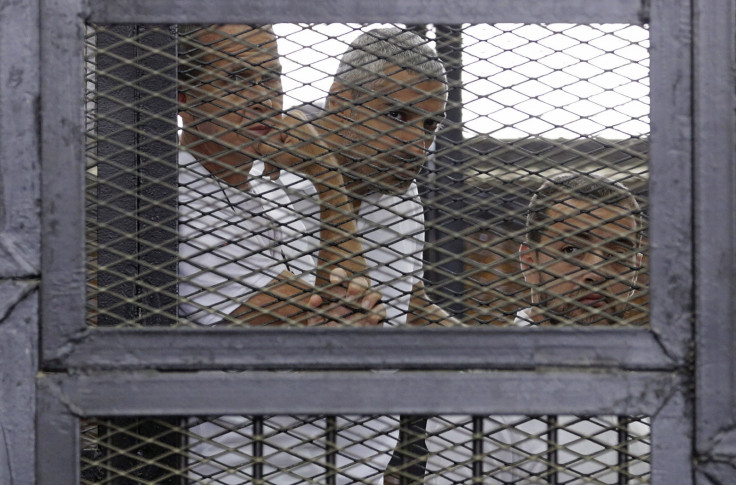 Elmessiry added that British companies involved in Egypt could find themselves directly aiding human rights abuses, including forced evictions to make way for development projects and the huge surveillance of activists via Egypt's telecom network.
"We are not against investing in Egypt but [...] investors, including British, should realise that the projects that they engage in may lead to human rights violations," he said.
Whitson argued that by supporting Sisi and promoting trade between the UK and Egypt at the Egyptian Economic Development Conference the West was proving to Muslims that it did not support their involvement in politics and pushing them towards radical Islamic groups.
"Al-Qaeda and the al-Nusra Front are proven right every single day, Sisi proves them right when they say that there is no place for [Islam] in democratic politics. [They tell young Muslims:] 'You will never be able to participate in democracy, and here is the evidence'," she said.
"Where does that leave an 18-year-old boy who has Islamist leanings? Whose father is in jail, or whose friend was gunned down? Who was arrested and detained? If they don't want to give up, there is only one option for them."
Sisi won elections in June 2014 with a landslide 96.91% of the vote, against his sole competitor, the leftist politician Hamdeen Sabbahi. There were widespread allegations of vote-rigging and the Muslim Brotherhood, Egypt's biggest political party, was banned from taking part.
The previous year Sisi, then the army chief of staff, overthrew Muslim Brotherhood president Mohammed Morsi after widespread riots on the streets of Cairo. Morsi remains in prison, along with many of his senior ministers, awaiting trial on terrorism charges.
Sisi has bolstered his international reputation by positioning himself as an ally in the war against the Islamic State (Isis), recently participating in military action against the group in Libya while battling an Islamist insurgency in the Sinai, close to Egypt's tourism hub, Sharm El Sheikh.
But while rights groups allege that last year's elections were a sham, analysts point out that Sisi has a good deal of support, particularly amongst liberal Egyptians in the major cities who were opposed to the Muslim Brotherhood.
"He retains a pretty high level of support around the country. He has been able to attack the human rights community and lock them up for protesting in a way that hasn't brought large groups of people onto the streets," said Anthony Dworkin, senior policy fellow at the European Council on Foreign Relations.
But Dworkin added that support for Sisi will be dependent on his handling of the economy, which is currently being bolstered by huge handouts from allies in the Gulf, including Saudi Arabia and the UAE.
Orlando Crowcroft is executive editor at IBTimes UK. He has previously written for several titles including the Guardian, Vice and Gulf News, specialising in the Middle East.