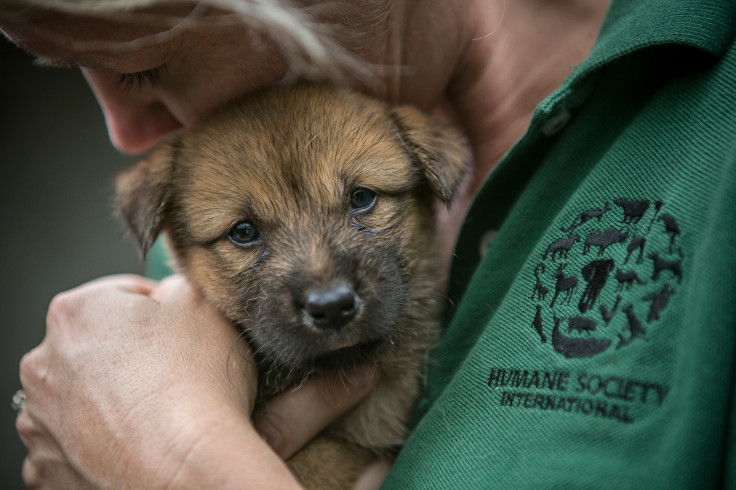 Hundreds of dogs have been saved from a meat market in South Korea ahead of the annual Bok Nal season.
The animal charity Humane Society International (HSI) has managed to prevent the deaths of 149 dogs and puppies who had been destined for death.
Every year in South Korea, around a million dogs are killed and sold off to meat markets and eaten as a spicy soup in the belief it cools the blood.
The majority of the dogs that are killed each year are eaten around the Bok Nal season, which normally takes place towards late-July and early-August. It is the hottest time of the year and the belief that the meat prevents lethargy and helps keep you cool in the summer heat.
But the charity has managed to help prevent the deaths of a small number of those usually destined for death.
HIS has intervened at dog farms across the country, closing nine of them, and in the process saving hundreds of dogs.
The latest closure came in Yesan, which had hundreds of frightened dogs locked up in small cages, many of the with injuries.
HSI's dog meat campaigner in South Korea, Nara Kim said: "Some people say that dog eating is Korean culture, but you won't find many young people who feel it's a cultural habit we want to hold on to.
"It's intellectually lazy to use culture as an excuse for cruelty because all cultures evolve over time and we often shed practices of the past. We are hopeful that things will change, and that the new Korean president will advance a new culture of compassion to animals.
"I am so happy that for these dogs the dog meat trade is over, but we have to fight on for the millions who are still suffering."
The dogs rescued from the Yesan farm are being flown to animal shelters in Florida, Illinois, Indiana, New Jersey, New York, Pennsylvania and Wisconsin in the United States to help them get a new life with loving families.
Fifteen puppies are too young to fly so will stay with their mums at a foster home until they can make the trip to the States.