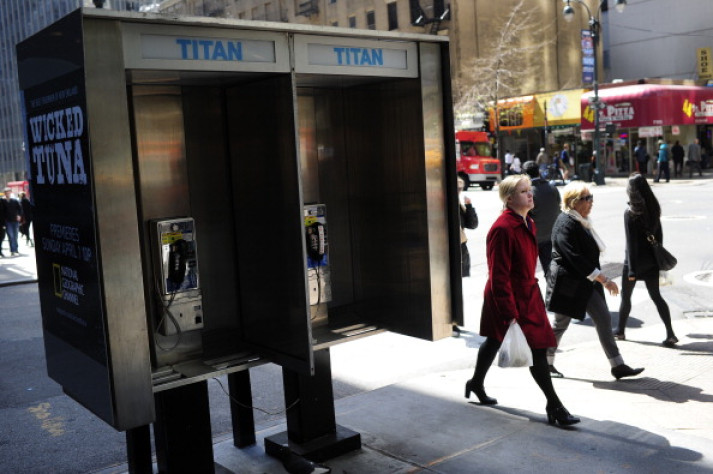 In a major invasion of privacy, a New York City agency permitted the company that controls advertising across several thousand NYC phone booths to place tiny radio transmitters, that can be used to track people's movements, in several hundred phone booths without any public notice, consultation or approval.
Known as 'beacons', the tiny devices that were planted across pay phone booths in Manhattan act like Bluetooth devices emitting signals that can be picked up by smart phones, such that potential customers can for instance be notified of sales.
The outdoor media company, Titan, had installed approximately 500 beacons across phone kiosks, said Nicholas Sbordone, a spokesman for the city's Department of Information Technology and Telecommunications (DoITT).
Titan had informed DoITT of its plans to install the beacons in 2013, and the city had given it a green light without a formal approval process as Titan claimed the devices will only be used for maintenance purposes.
In the face of hidden commercialisation and public surveillance, City Hall has reportedly told Titan to remove the devices after the news was published by BuzzFeed.
Donna Lieberman, New York Civil Liberties Union executive director condemned the program upon hearing of it.
"To the extent that the city is involved in this, the lack of transparency [is] of even greater concern," said Lieberman.
Doug Thompson, CEO of dot3, a beacon technology company added in his criticism:
"Consumers should be aware when they're in a zone that projects beacons. It shouldn't be kept hidden from them."
Despite both Titan and DoITT failing to provide specific locations of the beaconized phone booths, the concentration of beacons is reportedly in central and lower Manhattan.