The Central European University (CEU) of Budapest, Hungary, is calling for translators to help various organizations involved in helping the central European country cope with the recent influx of refugees and migrants arriving from Syria.
On Tuesday 15 September, Hungary sealed its border with Serbia, leaving hundreds stranded outside or in makeshift tents close to the frontier. After declaring a state of emergency in the area, Hungary also enforced new laws making it an offence to breach the razor-wire border fence.
Virtual translators database
There is a huge demand for Arabic speakers to help translate crucial information for refugees coming from various parts of the Arabic world. Those remaining at the Keleti Station, Budapest's main international railway terminal, and in the border camps in Hungary, cannot be processed or helped with vital documentation, and medical and family needs without interpreters.
With this in mind, the university created a database of translators from among its students, faculty, staff and alumni to support Migration Aid Hungary and other organisations in their efforts to communicate and provide up to date information to the refugees.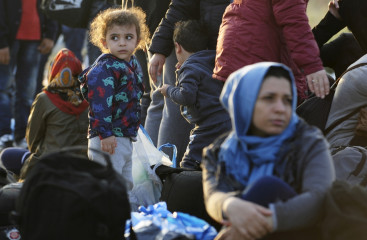 Migration Aid Hungary said it does not need people to be physically on the ground to help, but just be available on Skype, telephone or email.
At the time of writing, more than 190 people had signed up to the Facebook group that is intended to help the CEU distribute ad hoc and urgent translation requests.
"This group is meant to generate fast communication between the CEU members that signed up to volunteer as translators and the different civil and social actors that are working or volunteering to help the refugees," Simona Gamonte, the group's moderator and CEU's program coordinator for the University's Human Rights Initiative (HRSI), said.
Help: 'Hungary is not a cosmopolitan London'
IBTimes UK spoke to Livia Bergmeijer, a 25-year-old Dutch-Italian living in Lebanon, who signed up on Wednesday (16 September) because she says she could translate from Arabic to English and vice versa.
"I cannot physically be there on the ground to help due to work and life commitments, but one way I can help is by translating virtually, be it over the phone or online," Bergmeijer, the editor of Executive Magazine, explained.
"Hungary is not a cosmopolitan London – I think we can count on one hand the number of people here who speak Arabic, Urdu, Pashto or also Greek, French, Albanian and Turkish to help refugees with documents they may have been able to pick up en route. And since as a European and human being in general I have a duty to help, this is my little drop in the ocean contribution to this massive political and humanitarian crisis."
The CEU explained there are three possible ways for volunteers to help with translation, such as interpretation on the ground, translation help on the phone for certain emergency situations, and translation of written material – which include anything from news updates, important information and statements based on the translation requests received by CEU from Migration Aid or other organisations.
On 16 September, Hungarian police confirmed they had detained 367 migrants entering illegally – and the first criminal proceedings had been launched.
Frontex, the EU's border agency, reported more than 500,000 migrants arrived at the EU's borders this year, compared to 280,000 in 2014 – with many fleeing the Syrian conflict and poverty.
Note (18 September 2015):
This story and headline have been updated to correct references to CEU being a private university that is not working with or for the Hungarian government on the translation initiative.