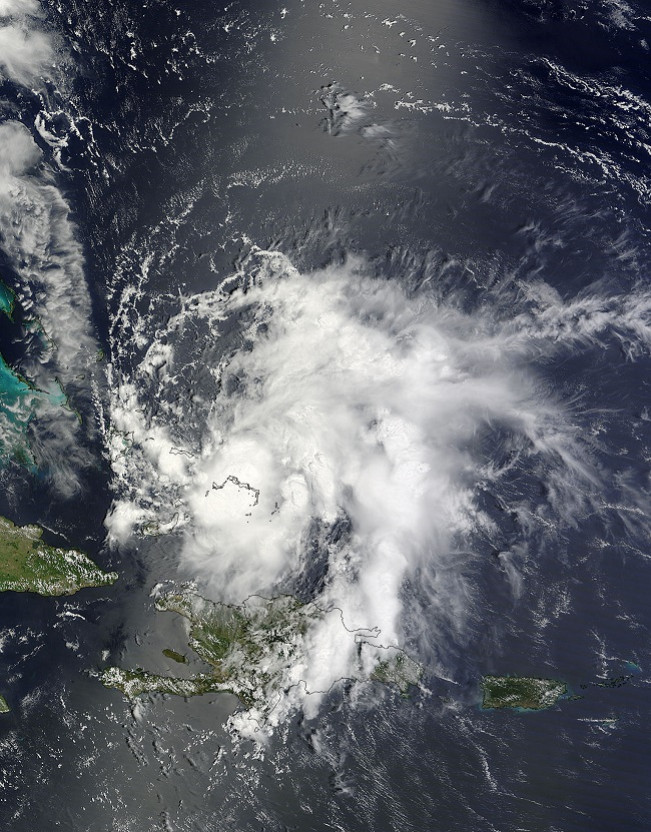 The remains of tropical storm Bertha look set to batter the UK this weekend – with Wales and southern England expected to be the worst hit areas.
The Met Office has issued a severe yellow warning - meaning the weather has the potential to cause danger to life or widespread disruption - for the UK except Northern Ireland on Sunday morning as Bertha makes her way over from the Atlantic.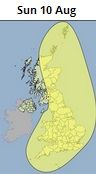 The Bertha hurricane has caused devastation in recent weeks by sweeping through the Caribbean with gusts of up to 90mph, leaving homes without power.
The storm is expected to hit the south of England on Sunday morning before spreading to the North West by midnight - potentially causing flash flooding across much of the UK.
But forecasters said there is still a chance the storm could miss the country and that they would be monitoring it as it moved across the sea.
The Met Office also said despite Bertha being "weakened" or downgraded to an Atlantic depression it was still hard to pinpoint which areas were going to be the worse affected.
Laura Young, a Met Office spokesman, told IBTimes UK: "We are expecting 50mm of rainfall over a short period of time. At the moment, places in the South West like Devon and Cornwall look more likely to be affected in the morning before it moves over to London and eastern England."
Initial forecasts said there was a 60% chance of it hitting parts of southern England. Meanwhile western France was 30% more likely to be battered by the high winds and heavy rain.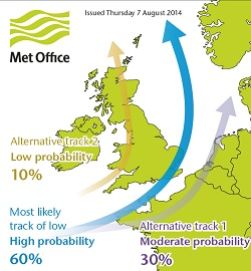 Met Office chief meteorologist, Eddy Carroll, said: "There is still considerable uncertainty surrounding this weekend's weather, with the potential for heavy rainfall and strong coastal winds, along with large waves.
"However, there is a chance that the system may pass to the south of the country, or spread heavy rain even further north. Rain and strong winds may well bring disruption, especially in the south, and people should stay up to date with the latest Met Office warnings."
The Environment Agency has also warned that on Sunday and Monday there is a possible risk of coastal flooding in the South West and along the Severn Estuary.
Craig Woolhouse, the Environment Agency's flood risk manager, said: "Heavy downpours, some slow-moving, bring a risk of localised surface water flooding to parts of the Midlands, the North West and eastern areas of England on Friday.
"On Sunday and Monday a combination of high spring tides and strong westerly winds brings a possible risk of flooding to the south-west coast of England and along the Severn Estuary while heavy rain may also lead to localised surface water flooding in parts of southern and central parts of England."