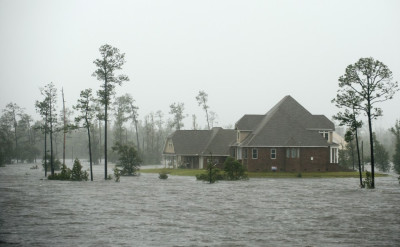 Hurricane Isaac has brought torrential rain and heavy flooding to the New Orleans area but residents and authorities were relieved the damage was nowhere near the scale of Katrina's devastation in 2005.
The category 1 hurricane hit New Orleans with winds reaching around 80 mph and was expected to weaken to a tropical depression as it moved inland, according to the US National Hurricane Center in Miami.
Search-and-rescue operations were under way across Louisiana. More than 730,000 in the state and in neighbouring Mississippi were left without power following the hurricane.
Two people had died: a 36-year-old man in Vermilion parish who fell 18ft from a tree while helping friends move a vehicle ahead of the storm and a a second person who died in an apartment fire attributed to the storm.
According to the Army Corp of Engineers, New Orleans's multibillion-dollar flood defences held up and foiled a repeat of the destruction brought by Hurricane Katrina in which 1,800 people died.
Army Corps of Engineers spokeswoman Rachel Rodi said the flood-control measures worked "as intended" against Isaac.
There was still a possibility of further damage. Evacuations were ordered because of the threat of a dam bursting near the Louisiana-Mississippi border.
Officials in Tangipahoa feared that the already swollen Tangipahoa River would flood huge areas in the parish though state officials were more sanguine.
West of New Orleans, flooding caused by Isaac forced 1,500 people to evacuate St Johns. In Plaquemines parish, a sparsely populated area south of the city, dozens of people were stranded in flooded coastal areas and had to be rescued.
Plaquemines parish president Billy Nungesser said about 2,000 residents had been ordered to leave but only about half were known to have escaped before Isaac arrived.
"On the east bank, we have reports of people on their roofs and attics and 12 to 14 foot of water [in their homes]," he said.
"This storm has delivered more of a punch than people thought."
Early estimates suggested Isaac could cause as much as $2.5bn (£1.6bn) in losses.