Hurricane Sandy Exposes Century-Old Shipwreck on New York's Fire Island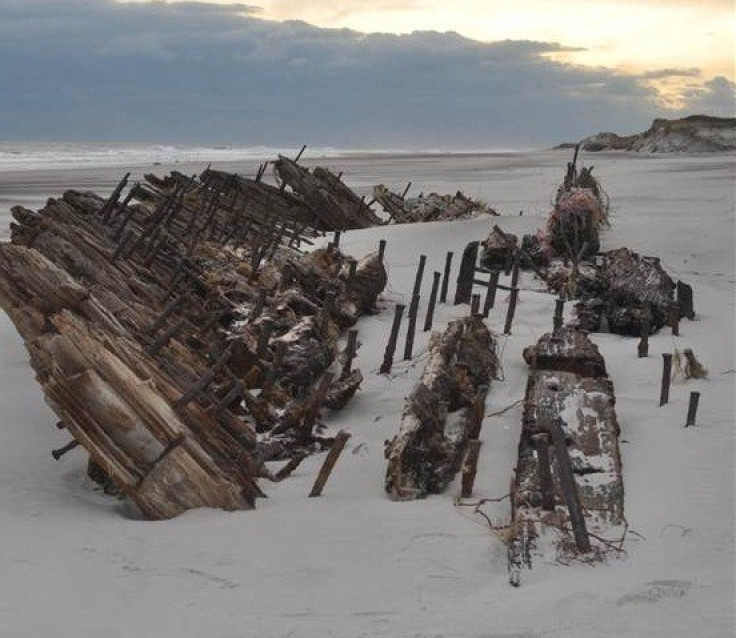 A wrecked shipping vessel has been unearthed on a barrier island of New York following the devastation left by Hurricane Sandy.
The wrecked schooner was found around 4 miles (6 kilometres) east of Davis Park and has recently been exposed as a result of severe beach erosion brought on by Sandy's storm.
The ship is believed to be Bessie White, which went missing in heavy storms on Long Island nearly a century ago. Conflicting reports say the ship was grounded in 1919 or 1922.
All the crew members escaped alive, but the ship went on its own path and was eventually salvaged for the tons of coal it carried.
Paula Valentine, spokesperson for Davis Park, said: "There's so little of it left we may not be not be able to determine which ship it actually is, but we may be able to learn more about its age.
"It's just a rare treat to see something exposed."
This isn't the first time the shipwreck made an appearance. Parts of it could be seen through the sand previously after nor'easter in 2006 swept through the area.
The entire island was submerged following Hurricane Sandy and the erosion pushed sand dunes back 72 feet.
© Copyright IBTimes 2023. All rights reserved.