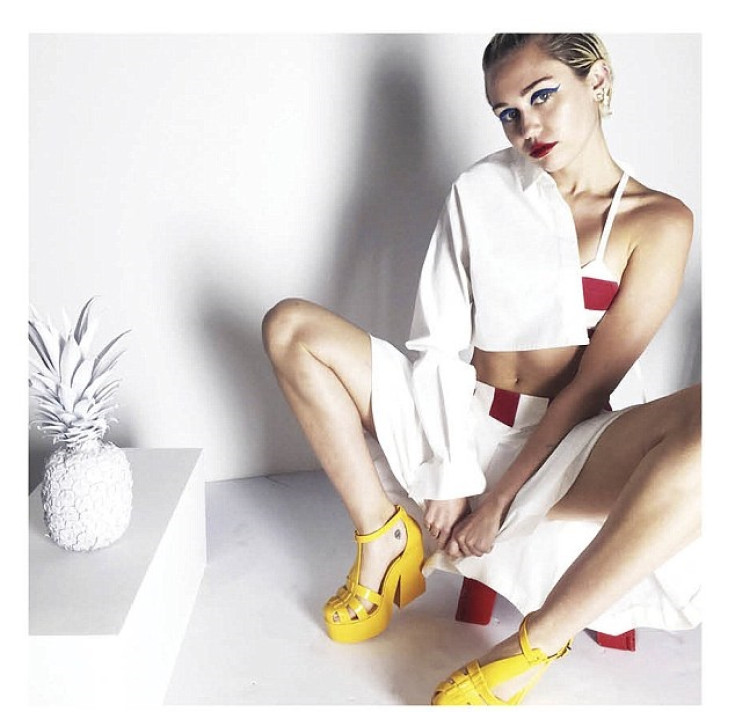 Miley Cyrus has sealed her new relationship with a kiss.
In pictures obtained by MailOnline the singer was caught in a passionate embrace with blonde Victoria's Secret Angel Stella Maxwell.
Miley, 22, who recently came out as bisexual, and the 24-year-old model shared the PDA outside The Palm Beverly Hills in Hollywood during a break from filming the singer's new music video.
The former Disney star is seen wearing a sequinned mini dress while Maxwell is dressed in a denim jacket and black catsuit.
The pair at first seemed oblivious to the cameras as Cyrus threw her arms around the model who in turn cupped the Wrecking Ball' singer's bottom.
However, even when they realised they were being watched, staring straight back at the camera, they didn't try to hide their obvious affections for one another and began dancing around the parking lot together.
The couple met through Cyrus's assistant and close friend Cheyne Thomas and the pair have been travelling around the world together
Stella had earlier joked during an interview with V Magazine that the two 'met through Grindr', the gay and bisexual dating app.
The singer, who split from Patrick Schwarzenegger in April, is rumoured to have embarked on a new romance with the stunning model after the two were spotted on Wednesday sharing an embrace in NYC.
According to the Daily Mail a source has told the New York Daily News' Confidenti@l column that Miley and Stella have been dating for 'months' and are known in their circle of friends as 'a couple'. "They hold hands and hug and are very comfortable together. They're definitely together," said the insider.
They are both regularly seen posing togther for selfies on Instagram. Two weeks ago Miley shared a photoshopped snap of the two holding hands with a mini Miley, with the star jokingly captioning the pic: 'mileycyrus@stellamaxwell & me with our future mini mc bb'.
The 22-year-old who was previously engaged to Hunger Games actor Liam Hemsworth and dated Patrick Schwarzenegger for five months until they split earlier this year has never named a female lover but has been open about her bisexuality, telling Paper Magazine last week, 'I am literally open to every single thing that is consenting and doesn't involve an animal and everyone is of age. Everything that's legal, I'm down with. Yo, I'm down with any adult - anyone over the age of 18 who is down to love me.'
The Tennessee native added, 'I'm just equal. I'm just even. It has nothing to do with any parts of me or how I dress or how I look. It's literally just how I feel.'
The 22-year-old talked more about her sexuality when interviewed by Time about her collaboration with Happy Hippie - her non-profit dedicated to helping homeless and LGBT youth - and Instagram to spread positive images of gender-nonconforming people with her #InstaPride campaign
She said: 'There are times in my life where I've had boyfriends or girlfriends. And there are times where I just love being with myself and don't want to give part of myself away to someone else ... I think that's a new freedom for women, especially.'
She has also described the moment she opened up about her sexuality to her mother Tish when she was 14. "I remember telling her I admire women in a different way," she explained to Paper Magazine earlier this year. "And she asked me what that meant. And I said, 'I love them. I love them like I love boys.' And it was so hard for her to understand.
"She didn't want me to be judged and she didn't want me to go to hell. But she believes in me more than she believes in any God. I just asked for her to accept me. And she has."
The Wrecking Ball star admitted when she was with women, she felt she needed to 'protect' them and be 'macho.'
"That made me feel like I had to be a femme-bot, which I'm not. And then when I was with a girl, I felt like, 'Oh s***, she's going to need someone to protect her, so I'm going to need to have this macho energy.' And that didn't feel right either."'
The images emerged as Cyrus, who is candid about expressing her sexuality, appears naked yet again, on the cover of V magazine. She is seen posing in a series of revealing ensembles, including one image where she bares her breasts.
It's the second time in a month that Miley has posed for the cameras in a state of undress. In Paper Magazine last month, the singer went completely nude as she posed with a pet pig.