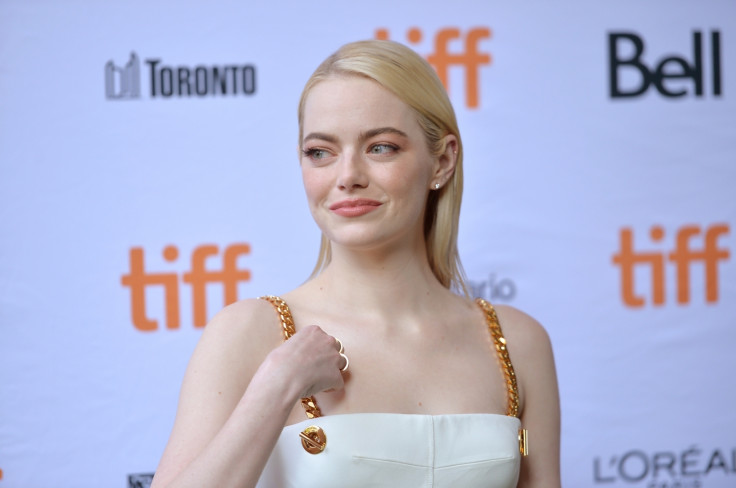 Emma Stone stopped by The Late Show with Stephen Colbert on 20 September to promote her latest film, Battle of the Sexes and even got an opportunity to meet the former presidential candidate Hillary Clinton.
However, the 28-year-old was left embarrassed after an unexpected photo fail with the Clinton. Promoting her upcoming movie about the life of Billie Jean King, the duo posed for a photo holding up T-shirts depicting the tennis ace.
Unfortunately for the Oscar-winner, her strapless dress was completely obscured from view, making it appear she was posing next to the Hillary naked.
"Can I also point something out beyond this very cool photo?' Emma informed host Colbert when shown the snap. "I get a chance to meet Hillary Clinton, which is unfathomable and incredible, and I look like I'm nude ... You had one shot," Stone explained to the Emmy host.
"It does look like you're topless," Colbert added much to Stone's embarrassment. The La La Land star also opened up about her life-long struggle with anxiety by bringing a drawing she made at age nine while in therapy.
She revealed on the talk show, "I was a very, very, very anxious child and I had a lot of panic attacks. I benefited in a big way from therapy. [Acting] helped me so much. Improv helped me so much. I still have anxiety to this day. Not panic attacks, knock on wood."
When Colbert disclosed that he had a panic attack of his own on 8 November, the Hollywood A-lister was quick to added, "Listen so did I."
Stone's upcoming biographical sports film follows the true story of the 1973 tennis match between World number one Billie Jean King and ex-champ and serial hustler Bobby Riggs and is set for release on 22 September in the United States.