Parents of pupils at a US school said they were in shock after a teacher allegedly projected the words "I want to kill children" on to the classroom wall during a lesson.
Eighth grade teacher Kris Burghart has taken leave from Stuart Middle School in Commerce City, Colorado, pending an investigation.
A student took a picture of the message and showed it to their parents, who then informed the school authorities.
Burghart is accused of typing the sinister words during a silent reading period at the end of the school day on Tuesday (5 December).
The message read: "Silent reading... I want to kill children so please sit down and read."
The incriminating photo was shared with local news site KDVR, along with a second image, which allegedly shows an amendment Burghat made to the projection.
The second message read: "Silent reading ... I want to kill children but I am a loving Christian man who never would hurt a flee [sic] so please sit down and read."
Many parents told local reporters that Burghart was a popular and considerate teacher. One said: "[He is] the most supportive teacher for any of the kids in this school."
Another added: "He's the greatest teacher at this school in my opinion."
But one parent warned: "We all have bad days but as a person in a position of trust with our students it doesn't matter how bad your day is. You don't speak that way. You don't write that way."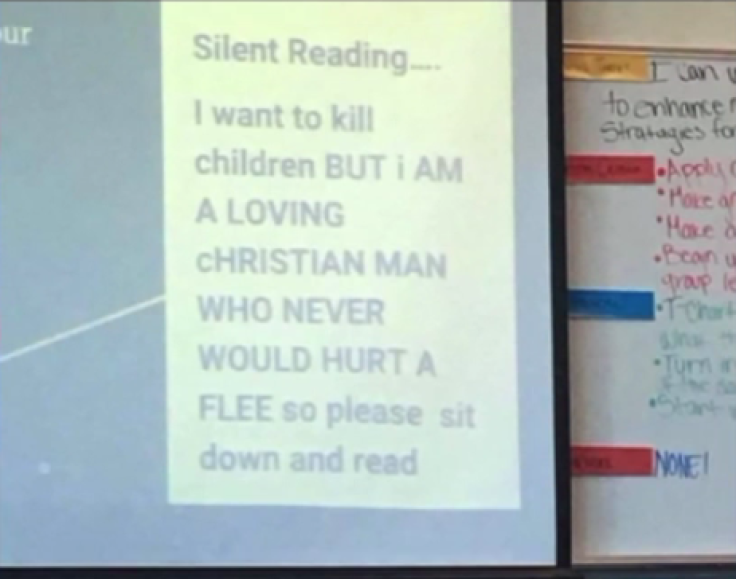 Headmaster Fabricio Velez stressed that no children were in any danger and put Burghart on administrative leave pending an investigation.
He said: "We started this investigation last night and have continued throughout the day today. Mr. Burghart was out of the building today and will be out of the building tomorrow while we complete our investigation.
"Please know that we take any allegations concerning the safety and security of our Raptors [students] very seriously. I can assure you that your student was not in danger at any time."