A routine traffic stop in a residential street has uncovered enough opioids to kill 220,000 people – equivalent to the entire population of Southampton.
An Ohio police officer found 439 grams of fentanyl – the deadly synthetic pain killer that killed pop star Prince – in a vehicle allegedly driven by a man suspended from driving.
One gram of fentanyl contains around 500 fatal doses.
The officer was shocked to find two large bags of the deadly white powder – which can be fatal if accidentally ingested in microscopic quantities – inside the car.
Donte Holdbrook, of Mason, has been charged with drug abuse and driving while under suspension, according to WLWT5.
He was pulled over on Lafayette Avenue in Middletown.
The US is in the grip of an opioid epidemic, with fentanyl playing a huge role in the carnage.
Around 20,000 people died from synthetic opioid overdoses in 2016 – an almost 400% increase in two years.
Overall, 64,000 people in the States died from drug poisonings last year – the highest number in recorded history and almost twice as many as a decade ago.
Black market fentanyl, produced in China, is being shipped to the US and Canada, where dealers cut it with heroin to make the street drug stronger.
However, the amateur nature of this process means that the final product can often be mixed unevenly and a miniscule crumb of concentrated fentanyl – or "hotspot" – can kill even the most experienced of opioid users.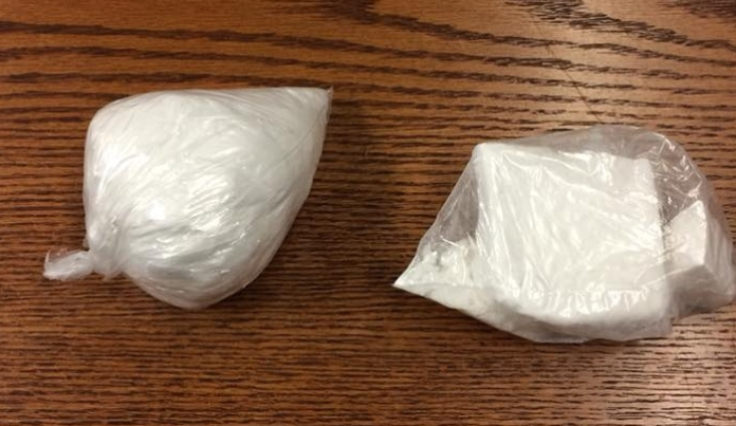 The drug is so potent that first responders have been known to fall into overdose after coming into contact with it.
In May an Ohio police officer claimed he had nearly died after brushing the powder off his shirt following a drugs bust. East Liverpool patrolman Chris Green was resuscitated after colleagues administered him with naloxone – an opioid antidote.
However, experts have questioned whether it is possible to overdose from a transdermal contact with fentanyl. Many believe it is more likely that some accidentally made its way into his mouth or his nose.
Firefighters, nurses and SWAT officers have all also been rushed to hospital after accidentally ingesting fentanyl.
In September police in New York seized 64kg of fentanyl – enough to kill 32m people.