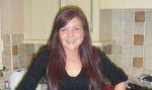 A soldier has been sentenced to life in prison for stabbing his ex-girlfriend to death and then stamping on her face in front of their four-year-old son.
Ian Lowe, 25, told Manchester Crown Court he lost control in March after finding out that on-off girlfriend Leanne McAnuff had aborted their second child, conducted an affair during their relationship and sold his pet dog.
Lowe, a Lance Corporal based at the Catterick army barracks in North Yorkshire, was already on bail for allegedly assaulting 24-year-old McAnuff when he made the discovery.
After hearing the news, Lowe went round to McAnuff's home in Droylesden, Greater Manchester, smashed open the door and raced upstairs to get his son out of bed before starting the attack.
At his trial, Lowe - who served in both Iraq and Afghanistan - pleaded guilty to manslaughter rather than murder. However, the jury rejected his plea.
In sentencing Lowe to a minimum of 28 years behind bars, Mr Justice MacDuff told the killer he was "evil and dangerous".
Since McAnuff's death, a tribute page on Facebook has drawn nearly 2,000 'likes' from users.
Friends wrote of a thoughtful young woman who cared deeply about her friends.