Hundreds of flights to and from Spain have been cancelled as thousands of Iberia staff protest against the airline's plans to cut staff.
Unions announced the five-day strike after the airline said it plans to lay off almost a fifth of its workforce.
In total, 415 flights have been cancelled, including services both to and from the UK - over the next five days Iberia's eight flights between London and Madrid have been scrapped.
The strike began today (18 February) and will continue until Friday. This is the first part of a two-month protest, which will include 15 days of strike action.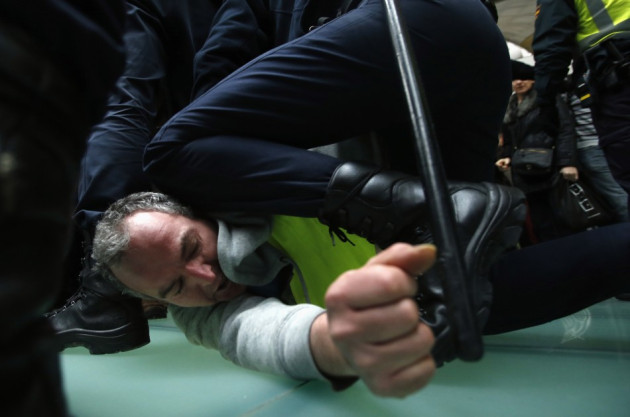 Staff will next strike between 4 and 8 March and then between 18 and 22 March. In total, around 1,200 flights will be cancelled.
While some international flights are affected, most of the cancellations have been domestic; at the time of writing 90 percent of long haul flights, 61 percent of medium flights and 46 percent of domestic flights are scheduled as normal.
Iberia said it plans to lay off 3,800 workers, claiming economic problems mean it has to take drastic action.
Staff, including baggage handlers and air stewards, began an 8km march around Madrid's Barajas airport today.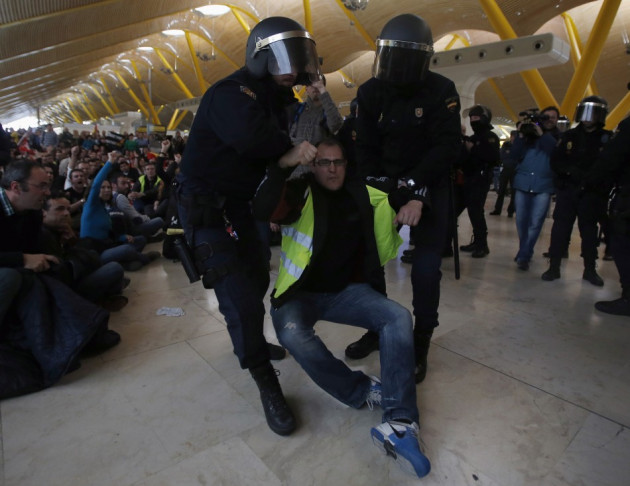 Elias Gonzalez, who has worked for Iberia as a maintenance supervisor for 27 years, said: "Nobody is safe from being sacked."
Police used batons to push back hundreds of protesters who had gathered at one of the terminals.
Some workers were beaten with truncheons as staff carried out a sit-in and chanted.
According to El Pais, protesters entered Terminal 4 early in the afternoon, with workers fighting with police and eventually overcoming them.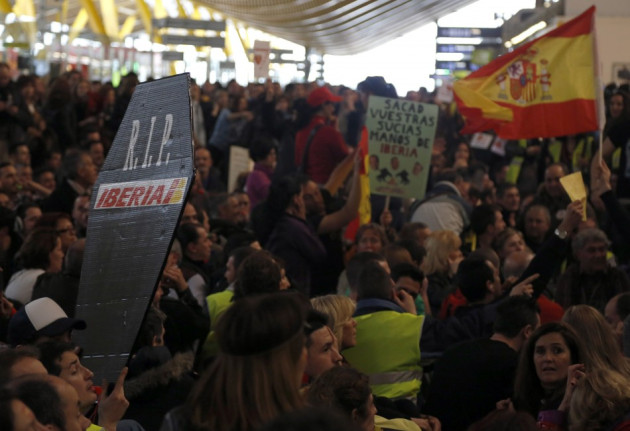 They then concentrated in front of the check-in area and moved towards security control.
Other demonstrations took place at airports across Spain, including protests at the Pablo Picasso Airport in Malaga and Barcelona Airport.
Iberia said that of the 70,000 customers affected, 60,000 have been booked onto other flights, while the remainder have had their tickets refunded.
The airline merged with British Airways in 2011 to form the International Airlines Group. In the first nine months of 2012, Iberia posted a loss of €262 million (£169.3 million).