Technology giant IBM is using artificial intelligence to drive the Internet of Things (IoT) revolution forward. Engineers are teaching the Watson supercomputer to recognise patterns in data, and using the blockchain to securely encrypt and store that data, in order to completely redefine the relationship between humans and machine.
IBM laid out its strategy for smart connected devices at the official opening of its global IoT headquarters in Munich, Germany, on 16 February. The company also announced R&D partnerships with numerous industries to create personalised, connected products in automobiles, finance, healthcare, entertainment, transport, home appliances, supermarkets, aerospace and the enterprise.
IBM says it now has 6,000 clients using IBM's Watson IoT platform to collect data from billions of connected devices, sensors and systems around the world and research new uses for that data to improve business processes.
Watson IoT uses deep learning algorithms to figure out patterns from seemingly unrelated, unstructured data gathered from smart devices, and the idea is to use the insights gained from AI to help businesses make key decisions and help to bring new products to market faster.
New partnerships
IBM announced a new partnership with Visa to use Watson IoT to turn millions of connected devices such as cars, appliances and smart watches into Point of Sale (PoS) terminals so that consumers can easily make secure authorised payments.
Visa's Token Service is a new security technology that replaces sensitive payment account information found on payment cards with a unique digital identifier sent via the Watson IoT platform. The tokens authenticate the user via their unique biometric information, such as their heartbeat, making the service even harder to hijack than a mobile payment service such as Apple Pay.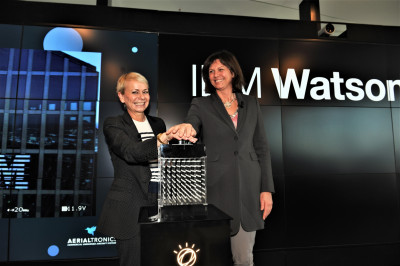 With automobiles, a driver can be alerted when a warranty is about to expire or if specific car parts need replacing and then order parts or schedule an appointment with the mechanic at the push of a button. The driver could pay for petrol from inside the car, by getting the car and the petrol pump to directly interact using IoT.
French Railways operator SNCF is teaming up with IBM to install 2,000 sensors in each of its newest trains on the Parisian lines so that engineers can remotely monitor up to 200 trains at a time for potential issues like doors failures or air conditioning while the trains are in transit, rather than having to bring in each train and manually examine it.
IBM is also collaborating with Arrow Electronics and the crowdfunding platform Indiegogo to enable startups creating IoT products to have access to Watson IoT as well to improve product development, and Bosch is working with IBM to provide technology to help automate and manage connected devices.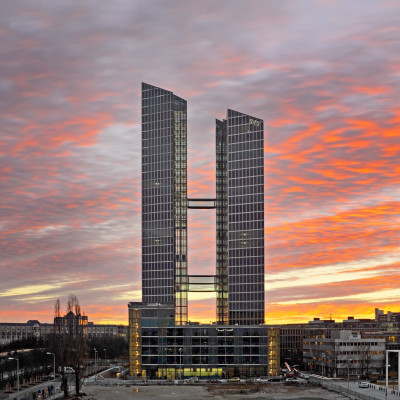 Digital Twin to speed up product development
Using data collected from thousands of connected devices, the Watson IoT platform can create a virtual equivalent of an actual physical product or service, known as Digital Twin.
For instance, aerospace manufacturers can use Digital Twins to simulate what will happen when a repair is attempted on a specific piece of equipment or product without attempting it in real life.
And by monitoring the equipment in the field 24/7 with the connected sensors, manufacturers now know exactly where and when problems start, which makes maintenance faster, and also helps them to understand how to avoid problems when developing the next iteration of the product.
"Germany is now the heart of the industrial Internet of Things in Europe. This is a very exciting moment for IBM. Cognitive computing will give us the insight to make this different, it will enable man and machines to shape the future," Martina Koederitz, general manager for IBM Germany, Austria and Switzerland told IBTimes UK.
"It's our promise and conviction to shape a better future for all of us. IoT is touching the lives of everybody, it's changing the world."