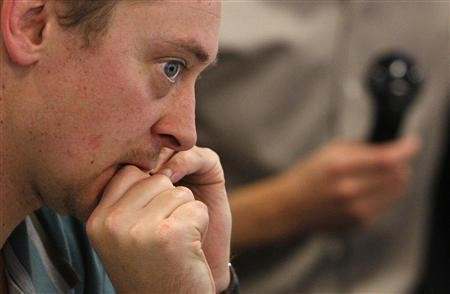 ICAP Plc, the world's largest broker of transactions between banks, said full-year pretax profit fell 5 percent as markets stabilized and volatility declined.
Pretax profit before one-off items and impairments, ICAP's preferred measure of performance, was 333 million pounds ($475 million) for the year ended March 31. Revenue rose 1 percent to 1.6 billion pounds.
"Our overall business is in good shape and is more broadly based than it has ever been," Chief Executive Officer Michael Spencer said in the statement. "We have made a good start to the new financial year, with volatile conditions creating more active markets."
ICAP said it booked after-tax charges of 52 million pounds related to the costs of closing its European and Asia-Pacific full service cash equities business and settling a Securities & Exchange Commission investigation.
Net income fell to 116 million pounds in the year ended March 31 from 175 million pounds a year earlier, ICAP said. Basic earnings per share was 18 pence in the period from 17.6 pence.
ICAP gained 5 percent to 389.6 pence yesterday, valuing the company at 2.5 billion pounds. The stock has declined 9 percent this year.
The company plans to pay a dividend of 12.44 pence per share, for a total 17.55 pence for the year.
ICAP shares however were down 2.2 percent at 381.1 pence at 0743 GMT, underperforming a declining market. Singer Capital Markets offered this comment:
"ICAP's results were in-line with the pre-close statement and our estimates with the cash equities business being treated as a discontinued exceptional item." said Sarah Ing, analyst at Singer CM, who offer the target price of 385p.
"The focus this year will be to concentrate on growing the business organically and the new financial year has got off to a good start with volatile conditions creating more active markets and together with favourable exchange rates we could see consensus estimates rise." she added, leaving her 'buy' rating alone, "The shares are trading on 11x FY11e which leaves modest scope for re-rating but we expect the shares will be driven more by underlying earnings momentum."
"We upgraded our buy rating two weeks ago since which time the share have risen 14 pct." she added.
Prime CFD's who reiterated their recommendation of a 'sell' today noted that losses in cash equities 'should have been avoided' and slapped a target price of 360p on the interdealer broker.