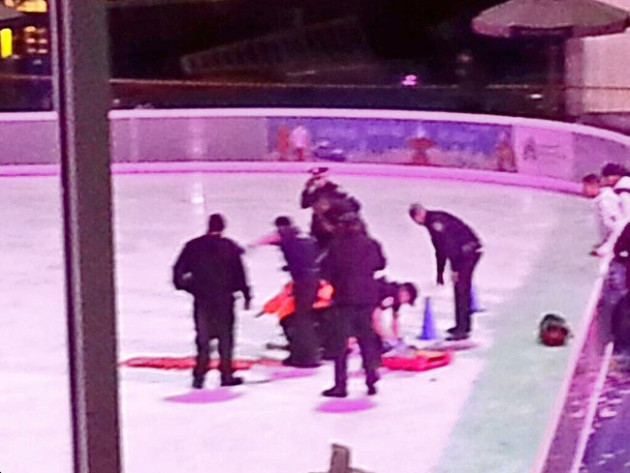 Skaters and tourists fled in terror when a man pulled out a gun and shot two people on a popular ice rink in New York City, one a 14-year-old boy.
Family members said the boy, Adonis Mera, was shot in the torso and may have been paralysed from the waist down. The other victim, a Hispanic man, was hit in the shoulder.
A witness, who was standing behind one victim, said that a man was standing outside the rink amidst a group of onlookers taking photographs when he drew a pistol, at about 11pm local time.
"He took out a gun and was scanning for him with his eyes, and then he shot him three times and ran," the man, who gave only the name Francis, told the New York Times.
"People around me fell to the ice. I fell down, too. Then I got up and ran to the railing like everyone else."
Some of the approximately 50 skaters who were on the ice fell to the floor, others clambered over the side of the rink and fled in only their socks.
"He was targeting someone," Justin Figueroa, 17, told the told the New York Daily News. "The shooter was serious. He shot three times and then he left running.
"I thought I was gonna die. I ran all the way across the rink. I pushed over a couple of people, then I jumped over the railing."
The skate rental tent was crammed as people rushed to gather their belongings. Police officers ran onto the ice accompanied by paramedics to treat the victims.
Both victims were taken to the Bellevue Hospital.
"He can't move anything from the waist down," Mera's brother, Jorge Arias, 29, told the Daily News outside the building.
Arias insisted that Mera was not deliberately targeted.
"Some people just started shooting and he got hit," Arias said. "He had nothing to do with it. He was with friends. He always goes ice skating with his friends.
A police source said that witnesses heard the shooter demanding the older victim's coat before he started firing shots.
The ice rink, which opened on 1 November, is the only free skating venue in Manhattan, and is a popular destination with tourists. It is overlooked by restaurants and surrounded by shops.
Police have yet to catch the gunman, but were last night searching the area for a black male with dreadlocks wearing a red, hooded shirt.