Canada's Kim Boutin has been the subject of death threats on social media after winning bronze in the women's 500m short-track speed skating final at the 2018 Winter Olympics in Pyeongchang.
The 23-year-old benefited from the disqualification of South Korea's Choi Min-Jeong for interfering to finish on the podium and claim the first major medal of her racing career, sparking scenes of wild jubilation.
Italy's Arianna Fontana won gold while Yara van Kerkhof of the Netherlands scooped silver, as Great Britain's Elise Christie crashed out on the final lap.
But many fans of Choi took exception to Boutin being promoted after many adjudged her to have made illegal contact with her competitors in both the semi-final and the final, incidents which went unpunished.
One user on Instagram wrote: "Cut off your dirty hands". Another said: "Did you're papa teach you [sic] to cheat for the medal??" Radio Canadahave reported one abuser writing: "If I find you, you will die."
Archived photos show Boutin's Instagram, Facebook and Twitter pages were inundated with comments, before being closed to prevent further abuse.
A statement from the International Olympic Committee read: "None of us can control social media and the public has the right to say what they want but we would ask anyone to respect the athletes and support their work. We occasionally have these issues and it is something we don't approve of. Let's stick to supporting the athletes and some great performances."
The Canadian Olympic Committee added: "We are working closely with Speed Skating Canada, our security personnel and the Royal Canadian Mounted Police (RCMP). We will not make further comment on this issue, so that Kim can focus on her upcoming events."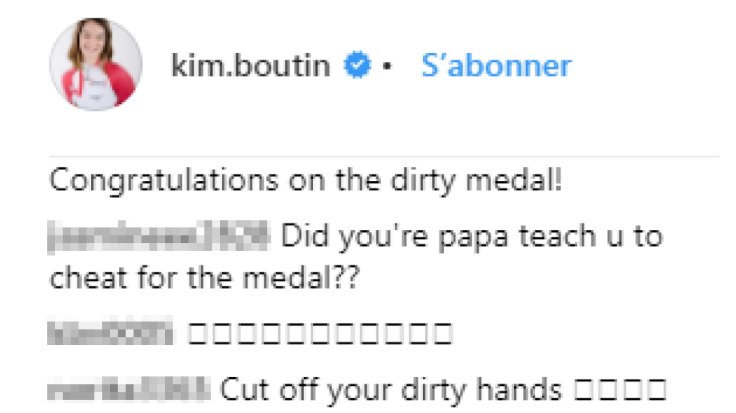 At the Sochi Games in 2014, Christie suffered similar abuse after colliding with South Korean Park Seung-Hi during the 500m final, leading to her undergoing therapy to deal with the emotional distress caused by the episode.
Many fans have taken to social media in an attempt to defuse the abuse directed towards Boutin, who is scheduled to compete again in the 1,500m, 3,000m relay and 1,000m in the coming days.
"It's unfortunate that people can't see what is truly before their eyes," Terry wrote on Twitter. "Kim Boutin deserves her medal. The South Korean did not deserve a medal and the right decision was made. Please show support for Kim. I for one am proud of her bronze medal win."