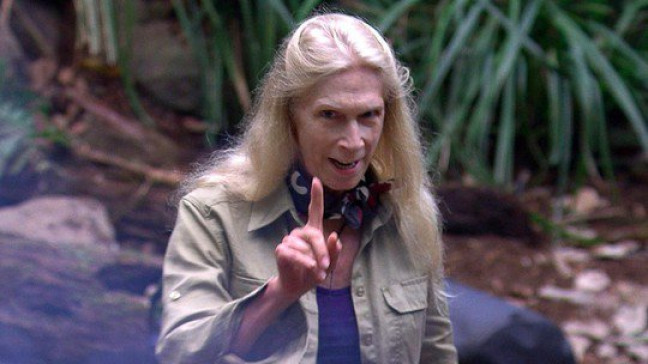 Lady Colin Campbell was gunning for a rumble in the jungle as she unleashed her acerbic tongue on her fellow I'm A Celebrity campmates, leaving former Newcastle United footballer Kieron Dyer in tears and threatening to quit the show.
As tensions reached fever pitch over a dispute between the group, the 66-year-old launched into a verbal tirade directed at almost every other member of the camp. She called millionaire entrepreneur Duncan Bannatyne a 'goat' and a' jerk', told Yvette Fielding to shut up and saving her worst insults for choreographer Brian Friedman, she said he was full of "s***" and called him a "b****."
#ImACeleb https://t.co/Aua7hjDTgh

— imacelebrity (@imacelebrity) November 25, 2015
It all kicked off when Lady C refused to discuss anything in front of anyone who showed any support for Tony Hadley and Jorgie Porter. "Well, that's all of us so keep your mouth shut," Duncan Bannatyne said. "All nine of us are 100% together so forget it." To which she replied: "T*****s, t*****s, the whole bunch of you!"
She was challenged by choreographer Brian Friedman for her rude behavior and he too was subjected to a torrent of abuse from the so-called Lady of the jungle. "Who the hell are you to speak about talking my dear. You're so full of s*** that if you ever took an enema you would disappear off the face of this earth. Be careful who you take on, dear baby boy, some people actually have sharper tongues than you, self-important little runt. Desperate for attention and can't get any."
Oh so it was a term of endearment @BrianFriedman! #ImACeleb https://t.co/FpgGy9W0aR

— imacelebrity (@imacelebrity) November 25, 2015
Her malicious verbal attack prompted TV presenter Yvette Fielding to intervene. "Lady C, Lady C shut up! You are a rude, horrible woman at the moment and you have a nasty energy about you, so be quiet. We are all sick of hearing your voice," she said, only to become the next target for her vitrol.
Defending Yvette Duncan added: "You're very very rude and whatever you get you deserve because you're not a nice lady." Jorgie Porter expressed her dismay at the situation telling Lady C: "I really respected you . I'm disappointed in you." "I'm disappointed in you my dear," Lady C promptly retorted, reducing Jorgie to tears.
Spandau Ballet frontman Tony Hadley also felt compelled to call up the jungle aristocrat for her behaviour, after she complained about the lack of respect she received from her fellow campmates. "We paid you the utmost respect. We've tried to help you from the day you've got in this camp and for you to tell us we have not respected you is an out and out lie and I'm not having it," he said.
An Old Goat, a Motormouth & a Buffoon go in to the jungle... stop us if you've heard this one... #ImACeleb pic.twitter.com/G66lDDrXyV

— imacelebrity (@imacelebrity) November 25, 2015
Speaking in the Bush Telegraph he added: "She crossed the line today I think it was disgusting how she spoke about me, Duncan and certainly Brian." Friedman who has been consistently at odds with her over her negative attitude commented: "Lady C is just shutting us down one by one in really brutal way."
Yvette, who admitted she was holding in her outrage and wanted to "wipe the floor" with Lady C described her behavior as juvenile. "This is ridiculous. We are adults. This reminds me of being in a school playground."
Lady C later accused the camp mates of ganging up on her and isolating her. Defending her behaviour she said: "I am rude when occasion demands it. If I'm not shouted down, I am completely ignored. I do not like being surrounded by false creatures posing as the real mccoy."
How many stars do you think Kieron would deserve for this challenge? #ImACeleb pic.twitter.com/WrXyIVZmrk

— imacelebrity (@imacelebrity) November 25, 2015
The confrontation caused a split in camp as boxer Chris Eubank and former footballer Kieron Dyer appeared to stick up for Lady C on account of her senior years, but the tension was too much for Kieron who threatened to quit the jungle.
The former footballer told Lady Colin Campbell and Susannah Constantine that he'd had enough and wanted to go. He said in the Bush Telegraph: "I want to leave. I'm a celebrity, get me out of here."
But the voice of reason, Chris Eubank persuaded the former mid-fielder to stay saying: "By going, you're doing exactly what she [Lady C] says they're trying to do, you'll isolate her by going," he explained. "You're a sportsman, that's not what we do. I'd like to get to know you better, we've made a connection here and it could grow."
Kieron decided to stay, but took on a challenge far more arduous than any critters or snakes he might face in the jungle. "My greatest challenge in the jungle is yet to come," he said. "I'm going to get everyone to love Lady C and I'm going to get Lady C to not curse and not put people down."
Well done @brianfriedman! The full 12 stars for Camp! #ImACeleb pic.twitter.com/DkLJYLTxig

— imacelebrity (@imacelebrity) November 25, 2015
Kieron might have bitten off more than he can chew. Even after her nemesis Brian returned to the camp triumphant with 12 stars and 12 meals in tow, after handling rats, eels and crocs, Lady C was less than impressed. "I'm indifferent" she said clearly non-plussed.
While Brian was happy with his haul, he didn't think even food would be enough to diffuse the tensions. "This won't bring harmony. This will bring food to give people strength to fight each other," he observed.
Meanwhile, the camp conflict had everyone talking on Twitter and the public made their sentiments clear as they voted for Lady C to do yet another bush tucker trial, dubbed Scarier 51. Of course Lady C had the last word. "You're all on a diet," she said defiantly. "I'm not doing it."
I'm A Celebrity continues on ITV.
You have voted Lady C to do #Scarier51 - will she do it? Join us tomorrow! #ImACeleb pic.twitter.com/4BUTyRUKBi

— imacelebrity (@imacelebrity) November 25, 2015
I rate Kieron Dyer so much as a person after that

— kal (@kalumduncan) November 25, 2015
I think me and lady c would of got on so well you know .!!! ? @imacelebrity #ImACeleb

— Carl Fogarty (@carlfogarty) November 25, 2015
Have to say im firmly on side of Lady C Kieron and Chris. Can only hope to be as quick with the comebacks when im her age #ImACelebrity

— claire 33 years (@Claire1997reece) November 25, 2015
She's no Lady #imaceleb

— Phillip Schofield (@Schofe) November 25, 2015