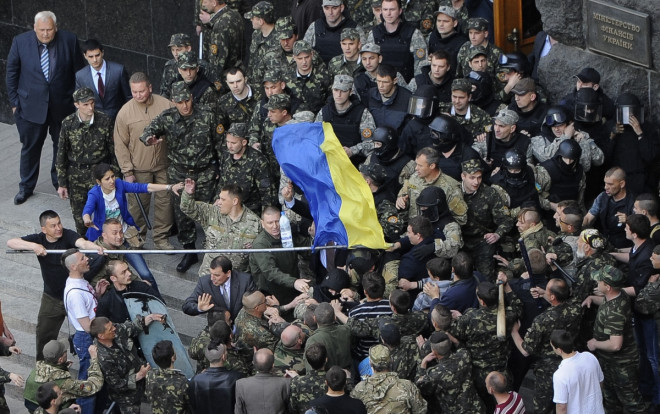 The International Monetary Fund approved a massive economic bailout programme for Ukraine on Wednesday as the country remains mired in economic and political crisis.
The package, worth $17bn (£10.1bn, €12.2bn) over two years, includes $3.2bn for immediate release to Kiev, which is struggling amid mounting debts and a stagnating economy.
Head of the IMF Christine Lagarde said the programme was risky and relied on Kiev implementing tough austerity measures at a time when Ukraine's population is already reeling after months of political and economic crisis.
"In particular, further escalation of tensions with Russia and unrest in the east of the country pose a substantial risk to the economic outlook," she said in a statement.
Pro-Russian separatists continued their campaign in eastern Ukraine, where they seized yet more government buildings on Wednesday. The armed militants are causing unrest in towns and cities across the Donbass region ahead of this month's national elections.
Meanwhile, Kiev's interim government is embroiled in a payments dispute with the Russian energy giant Gazprom over its energy debts and the price of gas.
Gazprom almost doubled the price it charges Kiev for gas last month and demanded $2.2bn in outstanding payments from the interim government.
The Russian gas company then demanded a further $11.4bn from the Ukrainian state gas firm Naftogaz, cranking up the pressure on Kiev.
The IMF warned that a protracted standoff between Ukraine and Russia will hamper efforts to get Ukraine's economy back on track.
"Anything that undermines the economic situation of (Ukraine) will jeopardize the implementation of the programme, which is why we very strongly encourage the parties to negotiate, to come to terms," Lagarde told journalists after the bailout was approved by the IMF board.