IMI Plc says it is well placed for the future with a clearly defined strategy which should deliver further sustainable margin improvement and long-term growth, notably through the acceleration of its new product agenda and increased exposure to the faster growing emerging markets. The group is scheduled to release its interim management statement on Friday.
CEO Martin Lamb said he hopes to take the proportion of sales coming from emerging markets to about 35 percent in three to five years and the company is working on a pipeline of deals.
Analysts at Peel Hunt also said they expect upgrades on pre-tax profit forecasts for 2012 towards £380 million versus current consensus of £356 million following the strong preliminary results.
The technology company, operating in its global niche markets, reported a rise of 19 percent in its adjusted pre-tax profits to £363.4 million for the FY 2011, above the consensus estimates of £344 million.
Jefferies International upgrades its rating on IMI from 'Hold' to 'Buy' and raised price target to 1150p from 840p.
The company which makes power-generation equipment and valves for drink dispensers said its US sales growth is also improving, which accounts 30 percent of group's total sales.
IMI made three acquisitions totaling about £125 million ($200 million) in the past four months, with a focus on emerging markets. "Investors in this sector like to chase growth but IMI's 2012 prospects are forecast to be sluggish and it may have to work hard to preserve the hard-fought gains achieved since 2009," said Panmure Gordon in a note to its clients. And added "IMI is a value stock in our view and can be re-assessed at lower share price levels."
The global macro-economic outlook remains uncertain, IMI is committed to its well defined plans to drive strategic convergence, accelerate future growth, deliver further margin improvement and make greater use of its strong balance sheet in delivering value enhancing acquisitions. Based on current market conditions it remains optimistic that the group will make further progress in 2012.
"The outlook statement reads positively, with further progress expected in 2012, however this does not appear to be well reflected in consensus forecasts," said Analyst Jo Reedman at Singer Capital Markets.
Below is a summary of sector comparisons in terms of price earnings, earnings per share, dividend per share, dividend yields, return on equity and price-to-book ratio. The table explains how the company is performing against its peers/competitors in the sector. The table below represents ten companies based on market capitalisation.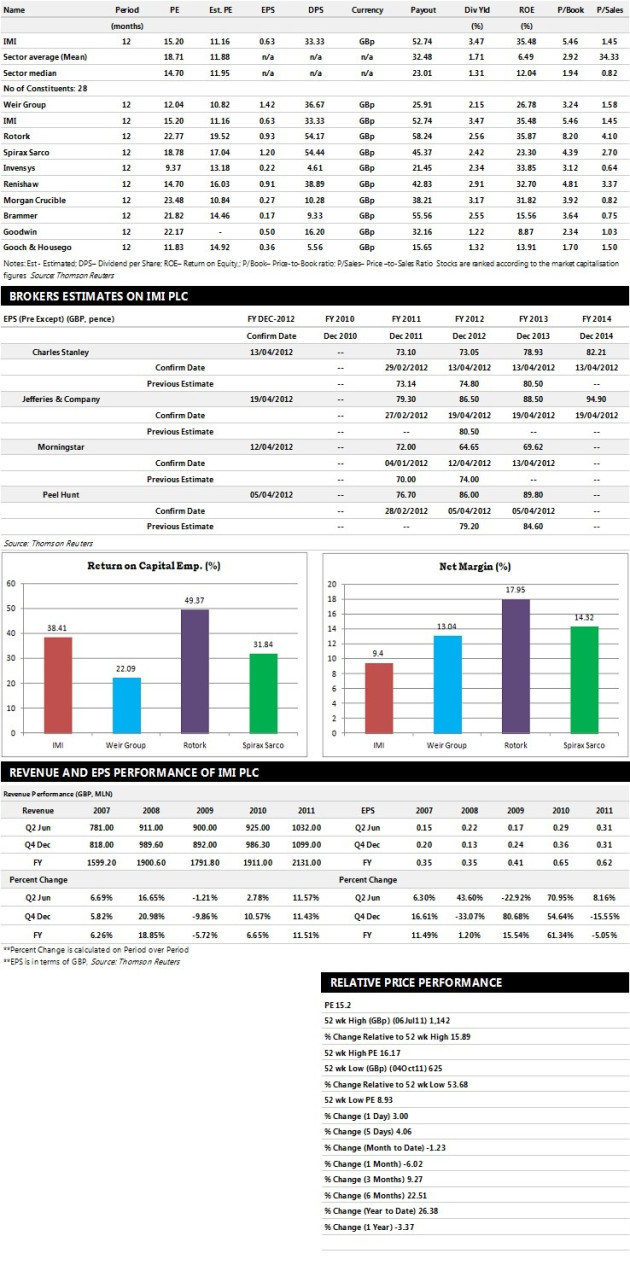 Brokers' Views:
- Charles Stanley assigns 'Hold' rating
- Peel Hunt recommends 'Buy' rating with a target price of 1,100 pence per share
- Panmure Gordon gives 'Hold' rating with a target price of 1,080 pence per share
- Berenberg Bank assigns 'Buy' rating with a target price of 1,155 pence per share
Earnings Outlook:

- Charles Stanley estimates the company to report revenues of £2,243.00 million and £2,332.00 million for the FY 2012 and FY 2013 respectively with pre-tax profits (pre-except) of £345.00 million and £373.00 million. Earnings per share are projected at 73.05 for FY 2012 and 78.93 for FY 2013.
- Peel Hunt projects the company to record revenues of £2,240.30 million for the FY 2012 and £2,362.80 million for the FY 2013 with pre-tax profits (pre-except) of £388.40 million and £403.30 million respectively. Profit per share is estimated at 86.00 pence and 89.80 pence for the same periods.
- Jefferies expects IMI to earn revenues of £2,249.50 million for the FY 2012 and £2,344.80 million for the FY 2013 with pre-tax profits of £391.80 million and £401.20 million respectively. EPS is projected at 86.50 pence per share for FY 2012 and 88.50 pence per share for FY 2013.