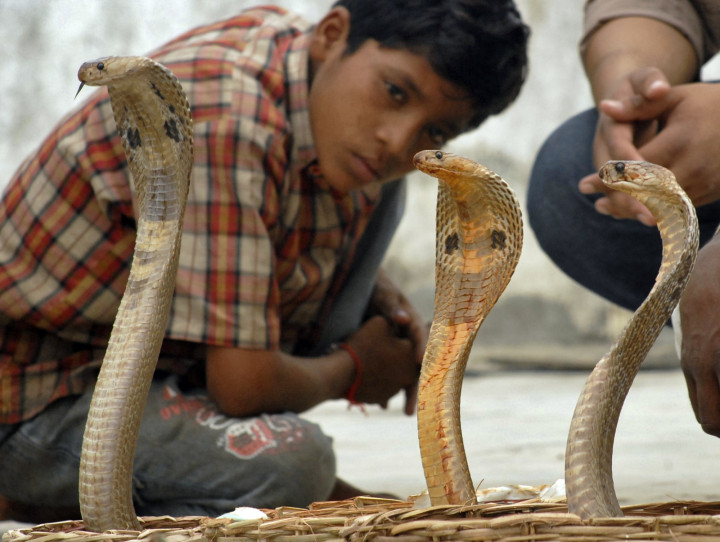 A young couple recently moved into their new home at the government quarters of the Railway Coach Factory in Chembur, Mumbai, hoping to start life afresh. But to their horror, they spotted cobra hatchlings all over their ground floor apartment.
The couple were startled when they learned that a total of 16 binocellate cobra hatchlings were rescued from their flat in the bustling Mumbai city and left in the wild.
Kailash Mane said that his wife Poonam was the first to spot a snake in their kitchen last week.
"Poonam saw it near the gas cylinder and immediately called me. I rang up [telephoned] a snake rescuer and rushed home," Kailash said as quoted by the Mumbai Mirror.
The rescuer took the young cobra away, but a few hours later, Poonam spotted another one in their bathroom. The snake rescuer Sunil Kadam was called again and this time he brought along four conservationists, who in total found 12 cobras in the house.
"We found 12 cobras at Mane's house," Kadam said and added, "They were all over [the house], in the bedroom, in the cupboard, in the bathroom, behind the commode, under the kitchen sink, below the bed..." All of the 12 cobra hatchlings were taken away by the forest department and the Mane couple, though overcome by excitement, were preparing to get some rest.
"We were about to fall asleep when Poonam saw another snake in the bedroom. We called the rescuers [for the third time] and they caught four [more] cobras," said Kailash.
After the horror, the couple were not willing to stay in the same house, so they packed up and moved to another wing of the quarters.
"We have not slept for two days... though we've moved to another wing, we're scared the female cobra might come looking for her babies," Kailash stated. This is a common myth that the mother returns to seek her babies after the eggs hatch.
Conservationist Kadam dismissed Kailash's fears saying: "It's a myth that the mother will return. She lays eggs and abandons the nest never to return. Cobras mate between March and April and Mane's room was locked for a few months before he moved in, this is probably when the snake laid her eggs."
The binocellate cobra produces a neurotoxin which targets the nervous system, paralysing voluntary muscles and causing death by choking. It can grow up to four feet in length as an adult, but a hatchling's venom is not as potent as that of an adult.
Some snakes are generally worshiped as gods in India.