Vuvraj Singh produced a brilliant all-round performance to inspire India to an opening T20 World Cup win over Afghanistan by 23 runs in Colombo.
After hitting 18 from 20 balls during the pre-tournament favourites total of 159 for 5, anchored by Virat Kohli's third T20 half-century, Singh took 3-24, including two wickets in the 12th over to assist in restricting Afghanistan to 136 all out.
Afghanistan must now beat England to qualify for the super eight stage of the World Cup, while India are on the brink of the next phase as they look to win a second limited-overs World Cup in as many years.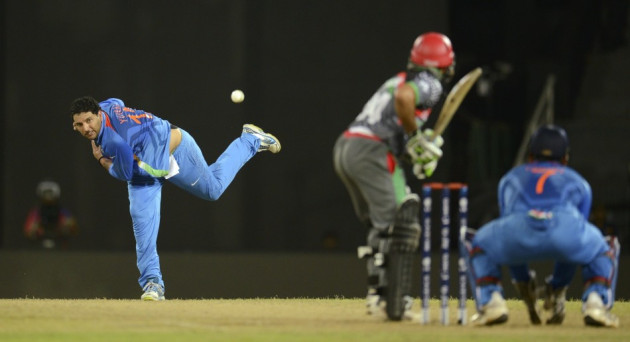 The 50-over World Cup holders' all-star batting line up was quickly put under pressure from an Afghanistan side who were making their second appearance in the tournament's history, following their cameo in 2010.
In stark contrast to the conflict which has befallen their country, the Afghans came into the competition as an unknown quantity but after winning the toss and putting India into bat, quickly set about making inroads.
Devilish seamer Shapoor Zadran struck twice in his first two overs as Gautam Gambhir (10) played on before Virender Sehwag (10) fended the left-armer to wicketkeeper Mohammad Shahzad.
With India 22 for 2, Afghanistan were looking to convert their impressive start but Singh, who survived being dropped by Mohammad Nabi, and Kohli rebuilt the innings prior the former being caught by Zadran after he sliced Karim Sadiq.
Kohli and Raina both took the game to the Afghans then after putting on 46 for the fourth wicket as the inaugural winners of the T20 World Cup asserted their dominance.
Raina was dropped twice on his way to scoring 38 in 33 balls, with six 4s, while Kohli, who also survived a drop further enhanced his reputation with a sparkling 50 with four 4s and two 6s as India accumulated 159 for 5 with the help of Mahendra Singh Dhoni's 18-run cameo.
In reply, Afghanistan began with the bat like they had with the ball, showing no fear in the face of major Indian reputations, but after three boundaries in the first three overs, Mohammad Shahzad (18) hit straight to Singh off Lakshmipathy Balaji.
The 30 year old Singh continued to wreak havoc in the middle, trapping Nawroz Mangal (22) before taking the wickets of Karim Sadiq (26) and Asghar Stanikzai (6) in consecutive balls to leave the underdogs 76 for 4 with eight overs left.
Samiullah Shenwari (1) and Shafiqullah (8) were dismissed to pile the misery on Afghanistan leading to the run rate creeping up towards 12 an over.
Nabi quickly threw caution to the wind, smashing 31 from 17 balls before picking out Rohit Sharma in the deep as the Afghans' dream faded in the Colombo night as they were bowled out for 136.