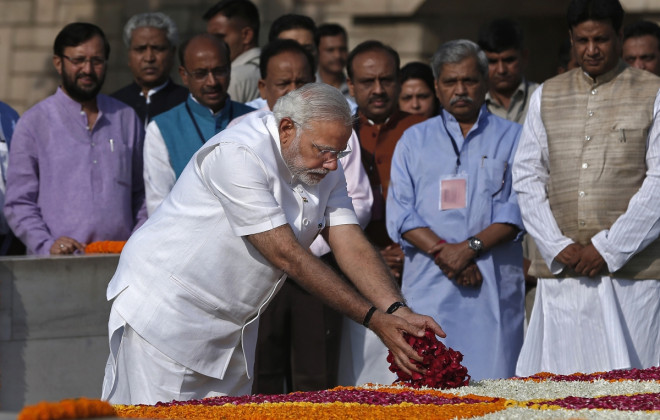 Narendra Modi has been sworn in as the prime minister of India, along with his council of ministers.
The swearing-in ceremony was presided over by President Pranab Mukherjee at the Rashtrapati Bhavan, or the presidential palace, in New Delhi.
Along with Prime Minister Modi, a 45-member cabinet also took the oath of office. Prominent leaders of the Hindu nationalist party, including Rajnath Singh, Sushma Swaraj, Arun Jaitly, Nitin Gadkari, will hold prime positions in Modi government.
The oath-taking ceremony was attended by around 4,000 guests including leaders from Pakistan, Sri Lanka and Afghanistan and Nepal.
Pakistan Prime Minister Nawaz Sharif attended the ceremony in spite of stern opposition from the military and extremist parties in his country.
Before his swearing-in ceremony, Modi thanked his supporters via Twitter.
A big thank you to all friends who will be viewing the ceremony on TV and through social media. Your constant support & blessings mean a lot

— Narendra Modi (@narendramodi) May 26, 2014
I am glad & honoured that people from all walks of life will join the swearing in ceremony. I welcome them. — Narendra Modi (@narendramodi) May 26, 2014
Meanwhile, the chief minister of southern state of Tamil Nadu, Jayalalitha, expressed her disappointment over inviting the Sri Lankan president for the swearing-in.