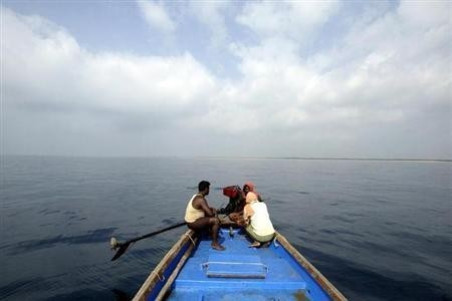 Cyclone Phailin, which is considered as the strongest tropical storm of the year, is set to wreak havoc in the eastern coastal states of India.
As the storm continues to intensify along the Bay of Bengal, meteorologists forecast that gale winds with a speed of up to 250kmph will batter Odisha and Andhra Pradesh which is already plunged in turmoil over splitting up of the state.
The cyclone is expected to make landfall on Saturday (12 October) evening. The local governments have asked for deployment of the army and the navy in case there is an emergency.
Tens of thousands of people, who are in the path of cyclonic storm, have been evacuated. Helicopters and military personnel are on high alert and are standing by in places where the storm is likely cause the maximum damage.
The Indian Meteorological Department (IMD) has issued a warning that the storm could knock out power supply and transportation will be crippled due to "extensive flooding".
The IMD bulletin added: "The state of sea along and off Odisha coast will be rough and very rough from Friday morning and become phenomenal the next day. Storm surge with a height of 2-2.5 metres above astronomical tide would inundate low lying areas of Ganjam, Khurda, Puri and Jagatsinghpur districts."
According to the Hawaii-based Joint Typhoon Warning Centre (JTWC), Phailin is undergoing an "extreme rapid intensification".
The name Phailin, meaning sapphire, was originally given by Thailand.
In 1999, a similar cyclonic storm struck Odisha killing thousands of people. This time the government aims to minimise casualties.
"Our past experience indicates that despite the state government's preparedness, impact of a very severe cyclonic storm requires support of the defence forces to mitigate the effects of extreme weather events," Naveen Patnaik, the chief minister of Odisha, said.
According to Ryan Maue, a meteorologist at WeatherBell.com, quoted by the Washington Post, the size of the storm is equal to hurricane Katrina which caused widespread devastation along the Atlantic coast in the US in 2005.