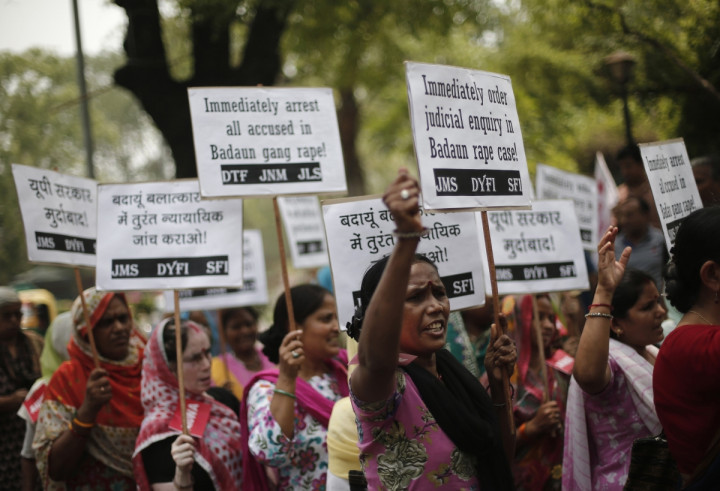 An Indian fashion shoot depicting a woman fighting off men on a bus has sparked anger among social media users for glamorising the 2012 Delhi gang rape.
Photographs from the shoot, taken by Mumbai photographer Raj Shetye, feature female models in evening dresses on board a bus. Several of the images show a woman being sexually assaulted, while another shows a woman being harassed.
The series of pictures, entitled The Wrong Turn, was initially published on the photographer's own website and the Behance.net platform. They have since been taken down after being heavily criticised on Twitter, Facebook and the Indian media.
Shetye has defended the photographs, stating the pictures were a shock tactic designed to force people to consider the safety of women.
He said the shoot was "just a depiction of the situation of women in our country" and not based on the rape.
The gang rape and murder of a 23-year-old physiotherapy student in Delhi, who was dubbed Nirbhaya - meaning "fearless" - by the media, led to nationwide protests and the tightening of anti-rape laws in the country.
Yet official records state a rape is committed every 22 minutes in India and several high-profile cases, such as the rape and hanging of two teenage girls in Uttar Pradesh in May, have led to a spotlight on sexual violence in India.
Social media users said they found the photographs in bad taste, describing them as "disgusting" and "horrible". Several well-known figures denounced Shetye's project, including Bollywood music director Vishal Dadlani.
"Did I just see a fashion-spread depicting the Delhi gang rape of Nirbhaya? Disgusting! I hope all associated, die of shame! Insensitive swine!," he tweeted. "Whoever you are... I hope you go to jail for this."
Amrita Puri, who starred in the 2010 Bollywood hit Aisha, commented: "Rape is not inspiration for a fashion shoot. I don't know what the photographer was thinking doing an editorial shoot inspired by Nirbhaya."
Sapna Moti Bhavnani, a Bollywood actress and hairstylist who took part in a stage production based on the Delhi gang rape, wrote on Twitter: "There is art and more frequently there is crap in the name of art. This rendition of the Nirbhaya story is..."
Shetye defended the project in a statement to The Independent, saying he had been planning a project on the issue of sexual violence against women in India.
He said he was glad that the images had sparked a debate on the matter: "It's unfortunate that I am compelled to justify my artistic expression around a social issue. If the cost to set the ball-rolling here is that I have to be the bad guy, then be it that way."