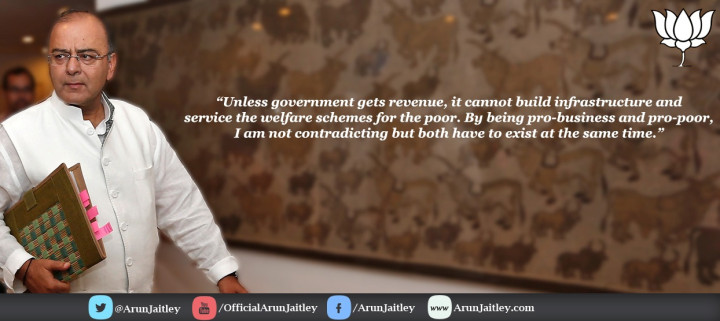 India's Finance Minister Arun Jaitley used Facebook to explain that there was no contradiction in the government being "pro-business and pro-poor", in response to fears that New Delhi's pro-business stance will do little to protect India's poor.
"Unless government gets revenue, it cannot build infrastructure and service the welfare schemes for the poor," a quote on the cover image of Jaitley's updated Facebook profile said.
"By being pro-business and pro-poor, I am not contradicting but both have to exist at the same time," it added.
Parth J Shah, the founder president of New Delhi-based think-tank Centre for Civil Society (CCS), told IBTimes UK: "A market economy benefits the poor more than the rich. The luxuries that the rich enjoyed 50 years ago are becoming accessible to the poor thanks to the many small and large entrepreneurs.
"However, for the poor to benefit, the market economy should have two characteristics; choice for the consumer and competition among producers. If these two conditions are met then pro-market policies would be equally pro-poor."
"Pro-business policies are not always pro-market, and this is the distinction that the Mr. Jaitley and the new government must understand. If the policies promote choice and competition then the markets would serve the poor well," Shah added.
Earlier, the minister used the same argument to counter allegations that his maiden annual budget had a pro-business bias.
"Let me make a candid confession. If you say that I have helped the businesses, and, [the 2014 annual] budget is pro-business, yes, it is. I have no hesitation in saying that it is pro-business.
"You need to be pro-industry. It is only then that you will gather sufficient revenue so that you are able to service the poor," Jaitley had said in his reply to the budget debate in parliament.
In a 10 July note to clients, Capital Economics said the Indian government took "a more hawkish line than expected" in its 2014 budget.
Jaitley's budget, tabled in parliament on 10 July, unveiled incremental measures to boost capital spending in Asia's third-largest economy and reassured foreign investors that they will be treated fairly.
Nearly one in three Indians was poor in the financial year 2011-12, a government study revealed in July 2014.
The study showed that 363 million people, or 29.5% of India's 1.2 billion population, lived in poverty in fiscal 2011-12.