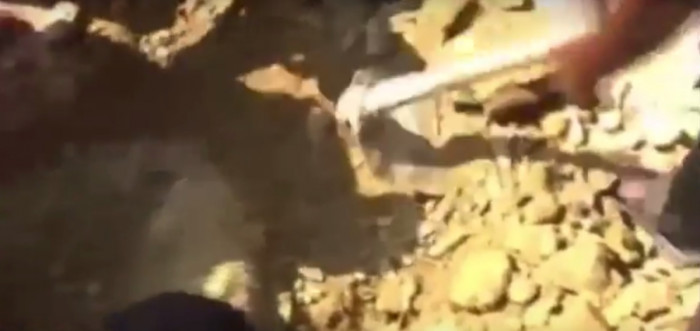 A man in India has died after being buried alive when he reportedly fell into a pothole in the road which was then filled in by workmen. After filling in the hole, apparently without noticing 45-year-old Latori Barman was lying in the bottom, a steamroller flattened the surface. Locals only realised something was amiss when they saw an arm stick out from the tarmac.
Barman had been at a fair in Madhya Pradesh state with his wife. When she stayed at her parents' home he visited a liquor shop and set off home. He was walking along a dark road with no street lighting when he fell down the large crater which was filled in later that night. Graphic video footage online shows a crowd of people frantically digging down to retrieve Barman's body. His lifeless body is carried from the hole and placed on a stretcher.
The incident took place in the Katni district. After Barman's body was sent for autopsy angry villagers blocked traffic until local officials promised to investigate and provide Rs 50,000 compensation for the farm labourer's widow. A driver and workman have been arrested and charged with culpable homicide.
"It was dark and there were no warning signs," an investigating officer told the Times of India. "He would have been walking in an inebriated condition when he fell into the pit between Udlana and Hata village and lost consciousness. Traffic had been restricted on the stretch as the pit occupied more than half of the road."
Potholes are a major problem in India, causing many accidents and fatalities. In total some 150,000 people die on India's roads every year, mostly as a result of poor driving and roads.