A 30-year-old man from India's northeastern state of Manipur was allegedly beaten to death by a group of men in the Kotla area of South Delhi, renewing the debate on racism in the country.
According to Ibnlive, the deceased, identified as Shaloni, was returning from a friend's place in Kotla Mubarakpur late night when a group of men attacked him. He was rushed to the All Indian Institute of Medical Sciences (AIIMS) Trauma Centre where he succumbed to his injuries.
According to students who hail from northeastern India, Shaloni was returning from work when he stopped by a supermarket, where he got into an argument with four men who allegedly assaulted him.
South Delhi's Deputy Commissioner of Police, B S Jaiswal said, "We have registered a case and investigation has been taken up. He was attacked by 5-6 men. There was no provocation from the part of the deceased,"
"We are trying to identify the attackers and the exact sequence of events," he added.
This is the latest in a series of tragic incidents involving people from North East India.
Last week, the body of a man from Manipur was found in a drain in South Delhi, under mysterious circumstances. According to a report in the Hindu, Kawilungbou Chawang, in his mid-20s, was working for a BPO in Gurgaon, near Delhi. He had gone to party with some friends on Saturday after which his body was recovered from the drain.
Although people in the locality claim that the victim had jumped across a wall and fell into the drain in a drunken state, his friends have alleged foul play. They say Chawang's death is just another incident of "hate crime" and "discrimination" against people from the North East.
In May, three people including a woman lawyer were assaulted in a Delhi Court by a mob of lawyers. They had approached the court in connection with a molestation case filed by a student from the North East against an advocate, and ended up being molested by lawyers.
In January this year, a similar incident led to the death of Nido Tania, a 20-year-old student from Arunanchal Pradesh, another state in India's northeastern region. He was beaten to death in Delhi's Lajpat Nagar area in broad daylight by three shopkeepers for allegedly objecting to a racial remark.
The Indian Government has set up the BezBaruah committee to look into the concerns of people from northeastern India living in different parts of the country.
The committee report has urged Bollywood to use its influence to bring down discrimination against these people.
The committee recommends, "As Bollywood plays such a prominent role in forming images in the minds of people, DoNER ministry (Development of North East region) should consider a suitable scheme of incentives for encouraging the use of North-East locales for Bollywood pictures."
However, the first look of the eponymous biopic on Indian boxer Mary Kom, who hails from Manipur in North East India, has sparked off a controversy in the social media.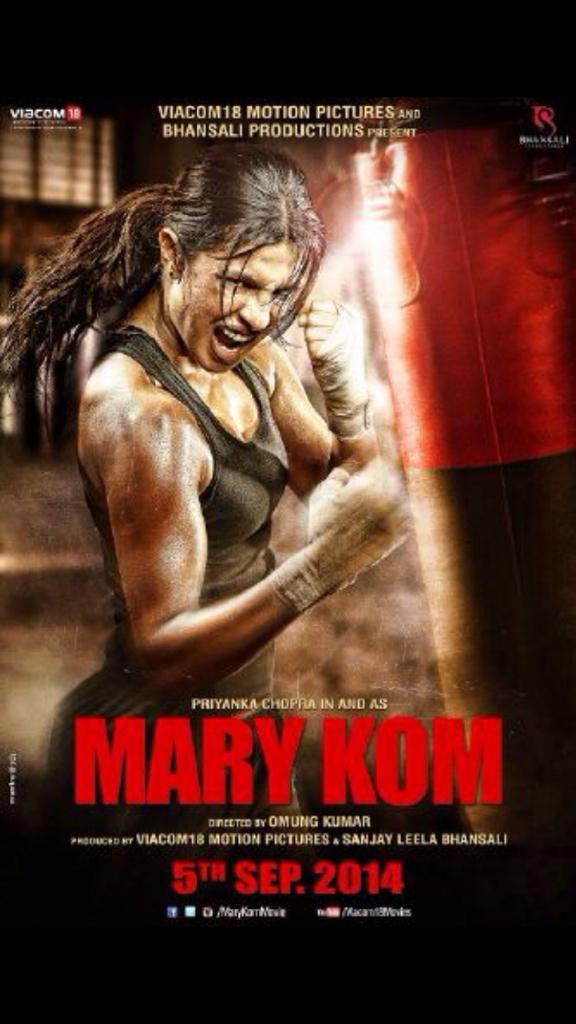 Priyanka Chopra, who plays the lead role of Mary Kom, is seen using prosthetic makeup to look the part of a Manipuri girl. Many people have accused Bollywood of sending out the message that no northeastern actress is good enough to pull off the role.
On the one hand, ethically, should Mary Kom have been played by a Manipuri actor? Especially given existing levels of marginalisation

— Rohan Joshi (@mojorojo) July 16, 2014
Those who come up with "Kohima shehar kaunse desh me hai?" are the same ones who cast Priyanka Chopra as Mary Kom.

— NumbYaar (@NumbYaar) July 15, 2014
Priyanka Chopra tweeted a short teaser of her film.
For you... a sneak peak into the life of a true fighter... http://t.co/d8B2e29PGE #MaryKomPunch Full trailer coming soon. Cant wait to share it

— PRIYANKA (@priyankachopra) July 18, 2014
The film is set for a September 5 release.