Police in India have foiled a huge onion heist that came against a backdrop of soaring prices for the vegetable in many parts of India.
Three men hijacked a lorry carrying onions on the road from Jaipur to New Delhi.
They accused the truck driver of damaging their vehicle and when he got out of his cab to see for himself, one of the gang jumped behind the wheel of the lorry and drove off. The other two ran away.
Police set up roadblocks in the area and the thief gave up, abandoning the stolen vehicle and running off.
Ram Kishore, a police officer in the northern district of Shahpura, told AFP: "Hijackers target loaded trucks to loot goods but it is not usual to target food or vegetables."
The price of onions has risen in recent weeks because of shortages from onion-producing regions such as Maharashta, where heavy rain led to a reduced supply.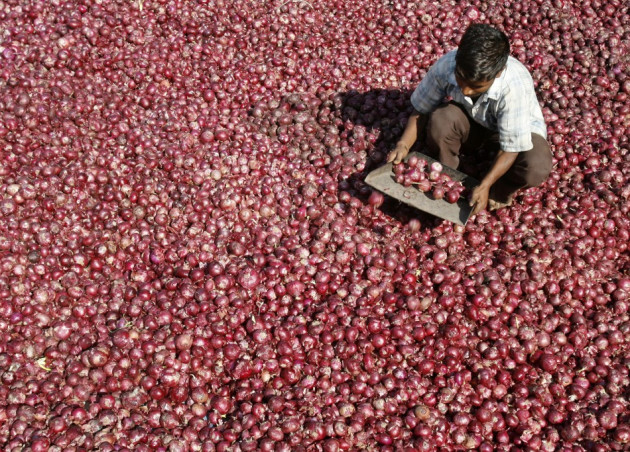 Onion prices in New Delhi rose to an average of Rs 60 (60p) per kilo - quadruple the minimum price they were selling for last year.
Officials are hopeful that the the cost will halve over coming days after government measures curbing exports are brought in and imports from Pakistan, Iran, China and Egypt are increased, the National Agricultural Cooperative Marketing Fedration of India said.
One official told the Times of India: "The minimum export price announced by the [government] on the sale of onion seems to have deterred exports and brought in more onions to the local markets. We expect the wholesale rates to stabilise at Rs 30 a kilo."
Authorities also said prices should drop further in the next two weeks after crops are harvested in Kumool.
Onions play a serious role in political influence in India. Former prime minister Indira Gandhi regained power by exploiting the rising price of the root vegetable. Almost 20 years later, the ruling party lost the 1996 general election because onion prices had increased sixfold over two years.