As cow politics continues to reign in India, two artists were detained for their work: a life-size styrofoam art installation of a flying cow in Rajasthan's Jaipur city. Following protests by right-wing Hindu groups alleging their religious sentiments were hurt, local police dismantled the work and detained the two artists.
Later, amid public outrage, the chief minister of the state, Vasundhara Raje, issued an apology and suspended the officers in question.
The styrofoam sculpture, titled Divine Bovine, was hoisted with a hot air balloon at a height of 50ft at the Jaipur Art Summit. Some people took objection to the installation saying it looked as though a dead cow had been hung. Barely 30 minutes after the cow structure went on display, the police arrived and demanded that the artwork be taken down immediately, even before the show began.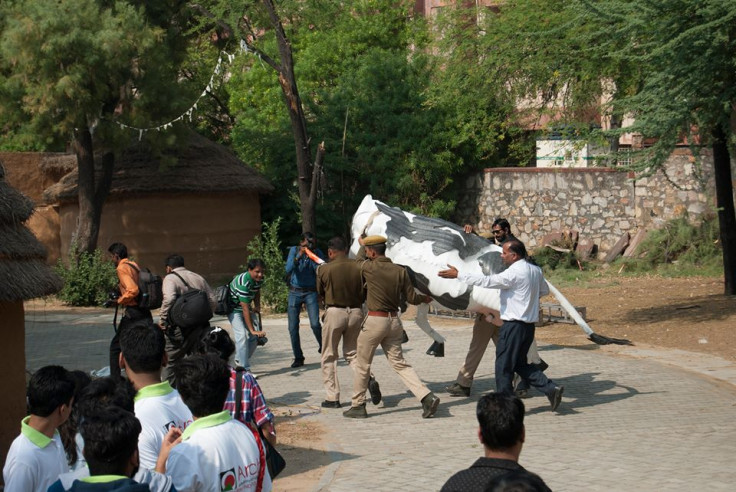 Artists Chintan Upadhyay and Anish Ahluwalia, who funded the artwork by Siddharth Kararwal, said the installation was in fact an awareness campaign to save cows from plastic pollution. "The message of the installation was harmony between humans and environment. Cows often scavenge for food and end up consuming plastic from the garbage, eventually dying from it. We had read about 10-15 kg of plastic being found in the stomach of deceased cows," former BBC journalist Ahluwalia told the Indian Express.
Both Upadhyay and Ahluwalia tried to reason with the police but the conversation turned into an argument and they were detained for at least three hours. Local media reports claimed the police dragged Ahluwalia by his hair into their car.
The police apparently advised them to write essays and paint in order to create awareness about issues rather than display such models. Meanwhile, the installation, which was taken down and put in a storeroom, was forcefully taken out by a bunch of right-wing Hindu activists who performed a puja and garlanded the cow. The cow is considered holy by the Hindus, who constitute more than 70% of the country's population.
In the past few months, India has seen several conflicting viewpoints on hardcore Hindu ideology in the form of "beef politics". Many of them have even turned violent, such as the incident involving a Muslim man who was lynched because he was suspected of storing beef in his house. What followed were several other beef-related cases of violence, including three deaths.
Beef and buffalo meat was banned by most states in India after the Narendra Modi-led Bharatiya Janata Party took charge at the centre. The party is largely seen as a Hindu nationalist party. The state of Rajasthan, where the incident took place, is governed by the same party.