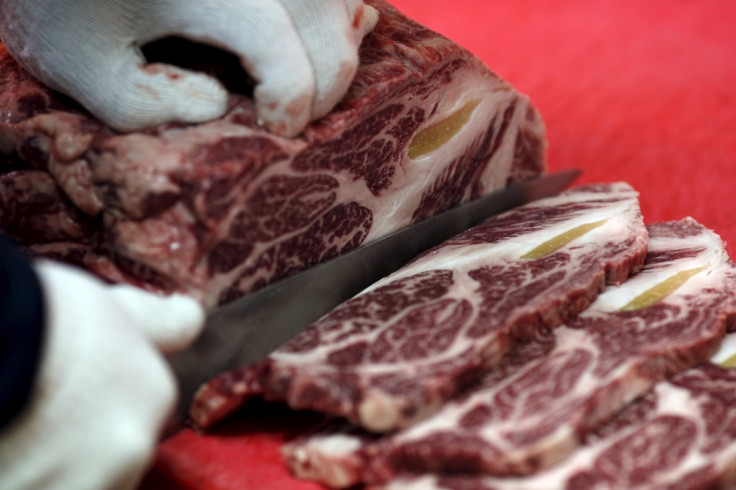 A leader of Narendra Modi's Bharatiya Janata Party (BJP) has said the chief minister of the southern state of Karnataka would be beheaded if he dared to eat beef in the town of Shivamogga. "Let him eat beef at Gopi Circle in Shivamogga. If he does so, he will be beheaded. We won't think twice about that," S N Channabasappa, former president of the local municipal council in Shivamogga district, was quoted as saying by the daily Deccan Herald.
Siddaramaiah, who belongs to the Congress Party, is the highest elected leader in the state. He had earlier said he has no qualms about eating cow's meat. "Nobody could stop me from eating beef, pork or any other meat if I wished to," Siddaramaiah told reporters in Bengaluru on Sunday (1 November).
Channabasappa, whose party is in the opposition in Karnataka, said the Congress leader had hurt the sentiments of Hindus with his assertion. "We have all grown up drinking cow's milk," said Channabasappa during a protest organised by the BJP across the state.
Karnataka's state spokesman for the BJP initially denied the statement by Channabasappa but later said he would investigate the matter, according to the news website Newsminute. A formal complaint is reported to have been filed against Channabasappa for his remark.
In recent weeks, tensions over beef and cow slaughter have flared up in India dominating headlines and social media. It began with the lynching of a 50-year-old man on rumours he ate beef in his native Dadri village in the northern state of Uttar Pradesh.
Cow slaughter remains a touchy subject in India and beef has been recently banned in multiple states. Critics of the government often point out that extreme right-wing Hindu groups have been emboldened in the past year after Prime Minister Narendra Modi, a Hindu nationalist, was elected as the country's leader.