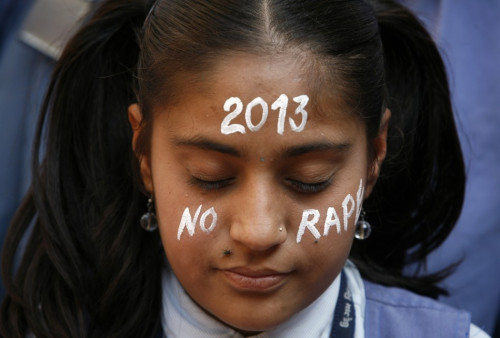 A 20-year-old woman was allegedly gang raped in a village in Eastern India on the orders of a village chief.
The incident took place at Subalpur village in West Bengal, about 180 km (112 miles) from the state capital Kolkata.
The community leaders accused her of having an affair with a man of a different caste and imposed a fine of rupees 50,000 (£490) on her and the boy.
The boy's family was willing to pay rupees 25,000 (£245), but the woman's family could not arrange the rest of the money. Sunil Soren, the village head, then ordered that the woman be "punished" with gang rape.
The police raided the village following a complaint filed by the woman's family. A group of villagers tried to oppose the police raid, forcing the administration to bring in more personnel, according to the Hindustan Times.
"According to the woman, the salishi sabha [village council] summoned her and her beloved on Monday and detained them through the day and night. After her family said they could not pay the fine, the salishi sabha allegedly ordered the mass rape on Tuesday," said C Sudhakar, superintendent of police.
The woman underwent medical tests at a hospital and is reported to be in a very critical condition, the police told local news channels.
The woman told journalists that she "lost count" of the number of men who had sexually assaulted her.
"There were more than five. It could even be 10," she said from her hospital bed.
The police have arrested 13 suspects, including Soren, the village head, who also allegedly participated in the rape. The youth with whom the girl had a love affair was also arrested though charges against him were not clear.
"It's horrific. They (rapists) are all our neighbours and I call some of them as kaka (uncle) and some others as dada (elder brother) or bhai (brother)," the women added.
Rising Rape Cases
The state has been rocked by rising crimes against women in the last two years.
According to National Crime Records Bureau data, the state witnessed the highest number of crimes against women in 2011 and 2012.
Earlier this month, a 24-year-old woman working at a fitness centre in Kolkata was dragged into a light truck and gang raped by five men in the moving vehicle along the banks of the river Hooghly.
One of the most shocking incidents occurred about three months ago when a 16-year-old minor was gang raped by six men. When she lodged a police complaint, they hounded her and her family and raped her again and then set her on fire.
The police appeared to side with the rapists as they started forcing the family to leave the state.