A cleric from the Indian seminary Deoband Darul Uloom sparked controversy after issuing a fatwa against a Muslim teenage girl for reciting phrases from the Hindu holy book "Bhagavad Gita".
The 15-year-old Alia Khan from the Indian city of Meerut participated in a contest that required students to recite verses from the book at an event marking the 101 years of the historic Lucknow Pact – an agreement between the moderates and extremists of the Indian National Congress and the Muslim League – during India's freedom struggle.
For the competition, Khan dressed up as the Hindu God Krishna and recited from the Indian scripture. She received a second prize for her achievement and was awarded by Yogi Adityanath, the chief minister of the Indian state of Utter Pradesh.
But her performance has irked the Muslim cleric, who said their religion doesn't allow children to participate in such events and called her action "un-Islamic." "How could she dress up like Lord Krishna. It is anti-Islamic," he told the Indian Express.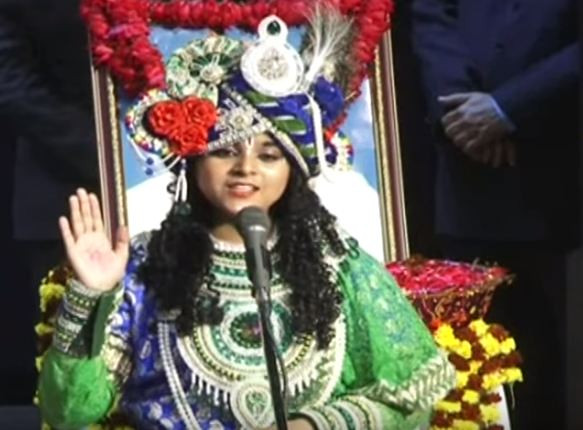 "Alia's act also amounts to Shirq," Mufti Arshad Farooqui, chairman of the online fatwa department of Darul Uloom told the website. Polytheism or practising idolatry is a sin or "Shirq" in Islam.
Mohammad Shafiq Khan of the Darul Uloom condemned the girl's participation and said Islam disowns such people. "If a Muslim worships any god except Allah they don't remain Muslims," he told ANI.
The teen girl, however, says she is not scared of such religious threats and will continue to recite from the Hindu holy book. "Putting barriers on someone's skill in the name of religion is not justified," she said while responding to the fatwa.
"When no one else has any problem, then why these ulemas are trying to stop me on the pretext of Islam. I have not forsaken my religion by learning and reciting Bhagwad Gita in any way. Gita is not merely a religious book. It imparts the knowledge of Karma. Knowledge can be sought from anywhere. This book teaches humanity," Alia added.
The Darul Uloom Deoband, Asia's biggest seminary, is notorious for issuing controversial fatwas and has previously issues such diktat barring women from cutting their hair, plucking their eyebrows and wearing jeans. It has also banned New Year celebration by Muslims calling it "un-Islamic".
.