In a wonderfully weird moment of camaraderie and bonhomie that runs against whatever expectations you might have of "nature, red in tooth and claw", a tiger and a goat have become the unlikeliest of friends.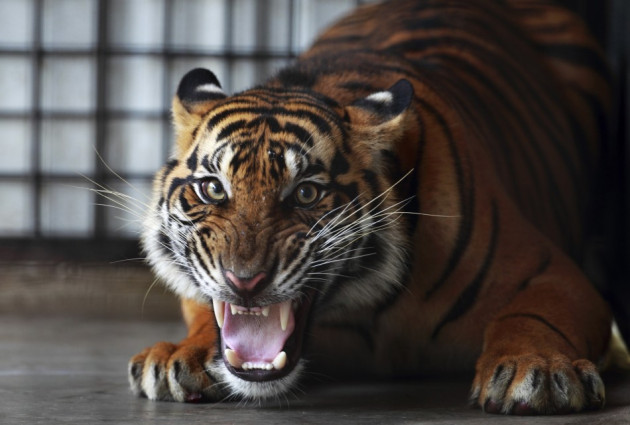 The Bor Wildlife Sanctuary, in the Indian city of Nagpur, has reported that a full grown male tiger spurned the chance to hunt and kill live prey - a goat - introduced into its enclosure. Instead, according to The Times of India, the tiger actually bonded with goat and went so far as to play with its supposed prey.
The tiger in question was rescued by forest officials from the nearby Dhaba forest in 2009 and was one of a litter of three cubs. The one male and two female tigers have all therefore been raised in captivity, with the sanctuary doing all they can to ensure the more feral aspects of the animals' character remained unchanged - deer were released into the enclosures to help hone hunting skills, ahead of a release into the wild.
Incidentally, the goat that was spared by the tiger was given no such loving treatment by his sisters. For them, dinner was very much served. Their brother was given ground beef, as usual.
"I fear the male tiger is not fit for release," veteran conservationist MS Chouhan explained, "When the females were rescued they had killed a dog and it seems they still had some hunting skills, but in the case of the male they are evidently missing."
And tiger experts Valmik Thapar and K Ullas Karanth have been quick to point out that if the male has indeed become too docile to survive in the wild, then he ought not to be released... even if it meant breaking the group the siblings have come to form.
Tiger Transfers
Meanwhile, in an earlier incident, the Indian government confirmed the successful relocation of a two-year-old tigress from the famed Ranthambore National Park to the Sariska Tiger Reserve in the state of Rajasthan. However, the second of the two animals scheduled for the transfer could not be found and efforts to transfer the first tigress' sister will be resumed after the animal is located.