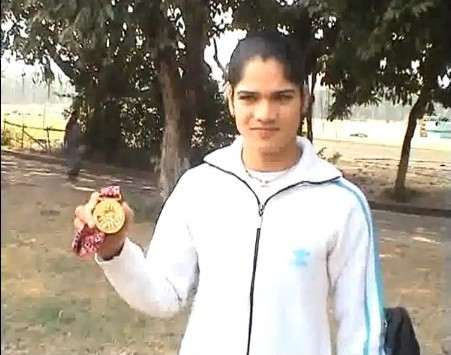 Indian athlete Pinki Pramanik, who won a gold medal at the 2006 Asian Games, has been arrested on charges of rape following a complaint lodged by a woman who identified herself as Pramanik's live-on partner. It transpires that Pramanik has not only been accused of rape but being a man posing as a woman.
Pramanik was arrested on Thursday evening in the state of West Bengal and taken to the Baguiati POLICE Station in the northwest of the capital city of Kolkata.
"The complaint stated that the woman athlete was a male and has been cohabiting with her for the past several months with a promise to marry her, but later denied," Outlook India, a magazine, quoted a top official of the Baguiati Police Station, as saying.
The police have requested a local court's permission to carry out a gender test on the athlete, while Pramanik, who has denied the charges and accused her partner of falsehood, is reportedly refusing to take the medical test.
"I have undergone numerous tests in my career as an athlete. Why should I agree to more ridiculous tests?" The Times of India quoted Pramanik as saying.
It is understood that if the tests prove Pramanik is a man, the former athlete will lose all the medals won since they would be deemed as "unfairly won on the track" and if the charge of rape is proved, Pramanik may even face life imprisonment.
Meanwhile, the Deccan Chronicle reports that following the complaint, Pramanik was taken to a private nursing home for a medical check-up, where the test reports confirmed that the athlete was indeed a male.
Pramanik has had huge success with the Indian national 4×400 metres relay team, winning gold at the 2005 Asian Indoor Games and silver at the 2006 Commonwealth Games. The runner also completed a hat-trick of gold medals at the 2006 Asian Games, winning the 400m and 800m events, along with the relay.
Interestingly, Pramanik is not the first Indian athlete to be accused of being a male. Another 2006 Asian Games medallist, Santhi Soundarajan, was stripped of the women's 800m silver medal after failing a gender test.
The Athletics Federation of India (AFI) is shocked at the possibility of a second similar situation. The federation has stated they will wait for the medical report and police investigation before taking any action.