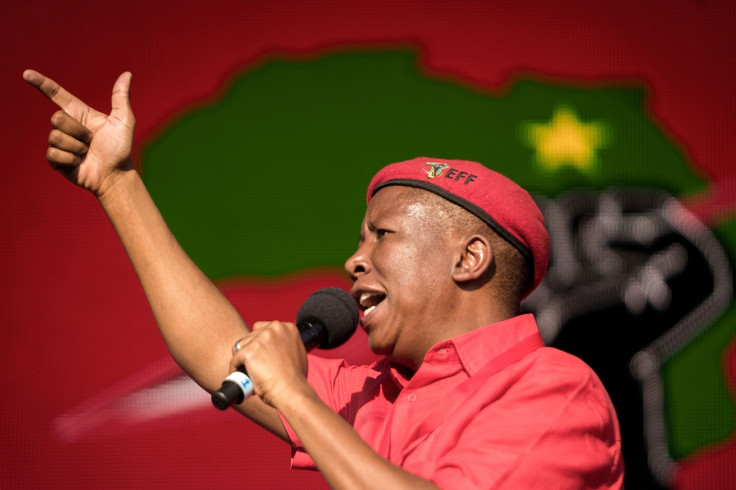 A South African politician has drawn criticism after claiming that "Indians are worse than Afrikaners." Julius Malema, leader of the Economic Freedom Fighters (EFF), made the remark as he delivered a speech during a celebration to mark EFF's fourth birthday in Durban, KwaZulu-Natal province.
"This is not an anti-Indian statement, it's the truth. Indians who own shops don't pay our people, but they give them food parcels," Malema told his supporters.
The South African Minority Rights Equality Movement (Samrem) opened a case of hate speech against the leader, arguing that the comment could incite racial hatred in the country, News 24 reported.
"People take seriously emotional statements like these, we have seen it in the past," Samrem chairperson Daleep Lutchman said.
Although Malema's comments sparked outrage, his party refused to issue an apology.
"Each time we come across the suffering and oppression of our people, we shall not mince our words, nor tiptoe around false minority feelings," the party said in a statement.
"When Africans in many townships explode in xenophobic violence against Pakistanis and other Africans from the continent, we condemn them. Equally, the racism that African people suffer in the hands of many Indian businesses and families must be condemned and must come to an end," the statement continued.
South Africa has witnessed a rise in xenophobic attacks in recent years, with rioters often looting businesses owned by foreign nationals who are accused of stealing jobs and blamed for the country's stagnant economy.
In one of the most recent examples of xenophobic attacks, Nigeria's foreign ministry called on the African Union (AU) to intervene after shops and homes owned by foreigners were looted and set on fire in South Africa's administrative capital Pretoria in February.
The riots sparked retaliatory rallies in Nigeria's capital Abuja, where the offices of South African mobile giant MTN were shut down after being targeted by angry protesters.
In October 2015, at least 500 people – mainly Zimbabweans, Somalis, Nigerians and Pakistanis – fled their homes in Grahamstown, Eastern Cape, after a surge of xenophobic violence in the area.
Malema's controversial remarks
The firebrand politician, who once lead the ANC Youth League, is known for his controversial remarks.
Hailed by his supporters as a strong advocate for black people's rights, Malema has also been accused of racism, sexism and inciting hate speech, accusations he denies.
In 2008, former archbishop of Cape Town Desmond Tutu, called on Malema to publicly apologise for claiming he was ready to kill for Jacob Zuma, who became South Africa's President in 2009. Malema made the remark at a rally to commemorate the 1976 Soweto Uprising.
Two years later, he was found guilty of hate speech after claiming that a woman who had allegedly been raped by Zuma "had a nice time."
Malema has often accused the white minority in the country of owning the majority of land. He once sparked outrage for singing an Apartheid song "Shoot the Boer" – 'boer' meaning farmer in Afrikaans – as the country continues to witness the killing of white farmers.
In 2011, he was suspended as African National Congress Youth League (ANCYL) president after being accused of smearing the party's reputation for claiming that ANCYL would send a team to Botswana to consolidate an opposition that could help bring about regime changes from there. In 2012, he was expelled from the ANC after being accused of creating division within the party.