Controversial opposition leader Julius Malema promised South Africans that his party – the Economic Freedom Fighters (EFF) – intends to expropriate land "illegally occupied" and redistribute it among people in municipalities EFF will govern following municipal elections in August.
Malema has always been a strong advocate of redistribution of land to the poor, one of the main issues affecting South Africa's black majority. The opposition leader has often accused the white minority in the country of owning the majority of land. Hailed by his supporters as a strong advocate for black people's rights, Malema has also been accused of racism, sexism and inciting hate speech, accusations he denies.
Childhood and African National Congress
Malema was born in Seshego, Limpopo province, in 1981. He was raised by his single mother, who worked as a domestic worker, and later by his grandmother. It is believed he joined the now ruling party African National Congress (ANC) before he turned 10. His task was to remove posters of the then governing party National Party (NP) placed outside police stations.
Malema soon became the regional chairperson of the African National Congress Youth League (ANCYL), of which late leader Nelson Mandela was also part. Malema joined the ANC's Masupatsela – or Young Pioneers – military organisation where he said he received military training, including the handling of firearms.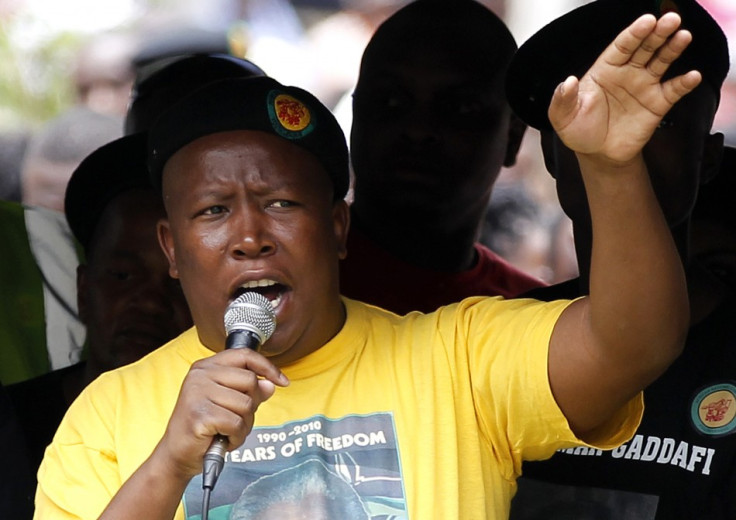 Controversial remarks and expulsion
In 2008, former archbishop of Cape Town Desmond Tutu, called on Malema to publicly apologise for claiming he was ready to kill for Jacob Zuma, who became South Africa's President in 2009. Malema made the remark at a rally to commemorate the 1976 Soweto Uprising.
Two years later, he was found guilty of hate speech after claiming that a woman who had allegedly been raped by Zuma "had a nice time".
Malema also sparked outrage for singing an apartheid song "Shoot the Boer" – "boer" means farmer in Afrikaans – as the country's white minority was witnessing a spate of killings of white farmers.
In 2011, he was suspended as ANCYL president after being accused of smearing the party's reputation for claiming that ANCYL would send a team to Botswana to consolidate an opposition that could help bring about regime changes from there. In 2012, he was expelled from the ANC after being accused of creating division within the party.
Economic Freedom Fighters
Following his expulsion, Malema founded the revolutionary socialist Economic Freedom Fighters (EFF) party. Founded in 2013, the party received 6% of votes in the 2014 general elections and Malema became a member of the parliament. He later claimed his party was the only one committed to expropriating and redistributing land to poor people.
The ANC has accused the Zimbabwe African National Union – Patriotic Front (ZANU–PF) – of supporting EFF in trying to destabilise the South African government. Opposition party Democratic Alliance (DA) accused EFF of fomenting violence when protests calling for Zuma's resignation rocked the country in 2015 and 1016.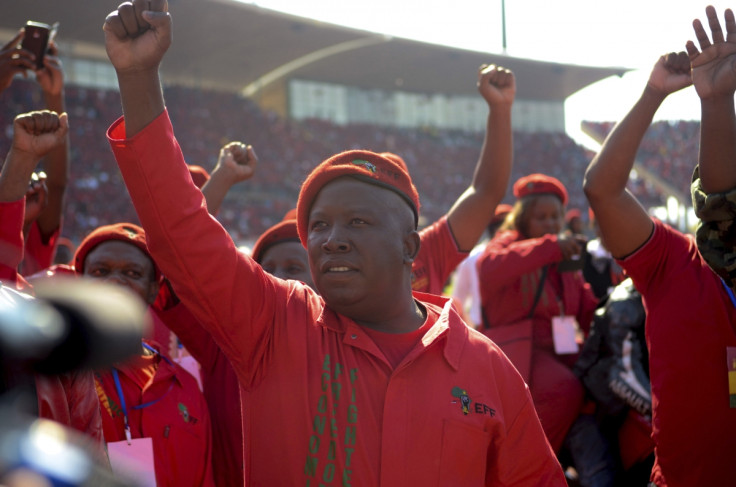 Criticism of Zuma and money-laundering charges
The relationship between Malema and Zuma started deteriorating when the latter became president in 2009. Malema started accusing the new president of ignoring poor people's rights and eventually apologised to South Africa for having backed Zuma in the past.
In 2015, Malema was removed from the State of the Nation address after he interrupted Zuma to question whether he would pay back state funds allegedly used to renovate his house in Nkandla, in KwaZulu-Natal province.
In April 2016, Malema said his party would remove Zuma from his office and arrest him after the Constitutional Court ruled that the leader, and the National Assembly, had breached the constitution for failing to repay state funds used to renovate Zuma's Nkandla private residence.
Malema also drew criticism after he claimed he would fight the ANC government by force if Zuma's government responded violently to peaceful protests.
The opposition leader stood trial on money-laundering charge in 2014 in relation to a government tender awarded to a company partly owned by his family trust when he was an ANC member. The case was later dismissed.
Malema also saw his uncompleted villa in Johannesburg auctioned for $650,000 (£449,655) after tax authorities accused him of failing to pay more than $1.5m (£890,000) in taxes.