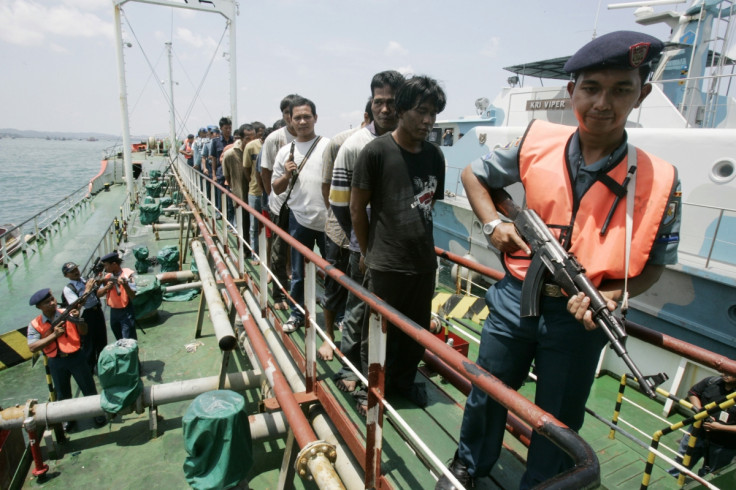 Two British journalists are in court in the island of Batam, Indonesia for trying to shoot a documentary about piracy without first obtaining the correct entry visas. They had entered the country using tourist visas.
Neil Bonner, 32 and Rebecca Prosser, 31, could potentially face up to five years in jail, according to Ali Akbar, a senior official at the local prosecutor's office.
"They have broken Indonesian immigration law and could be jailed for up to five years if found guilty," he told AFP. The two were on house arrest but have now been transferred to prison.
AFP said foreign journalists wanting to report in Indonesia must first obtain a special visa. In the past, those who had been detained for reporting in the country without the proper visa have been either deported immediately or handed short prison terms.
According to court papers seen by AFP, the duo had entered Indonesia in May to shoot a documentary for production house Wall to Wall with funding from National Geographic.
They had hired several Indonesians to re-enact the scene of a tanker being boarded by a group of pirates off Batam, which is located in the Malacca Straits, a major shipping lane. The Jakarta Post claims that the Indonesians hired were former pirates living on the Belakang Padang Island and are under surveillance by the Indonesian navy.
"Acting on a tip-off from residents, the Indonesian navy carried out a raid and arrested them," the indictment papers said, noting that the journalists had carried out activities that were "not appropriate" on a tourist visa.
Wall to Wall confirmed that the two were working for them in the UK. "They travelled to Indonesia to film footage for an episode of a National Geographic factual television programme, looking at the good work done by law enforcement agencies in the Malacca Strait to combat piracy," a company spokesman said.
"A trial process has now begun. Neil, Rebecca and Wall to Wall are cooperating fully with the relevant authorities and we hope that Neil and Rebecca will be released and reunited with their families as soon as possible, having been detained for four months," the spokesman added.
Wall to Wall's programmes include The Voice UK, Long Lost Family, New Tricks and Who Do You Think You Are?
The court hearing has been set for Thursday (1 October). The pair's lawyer, Aristo Pangaribuan told AFP that what the journalists had done was a "misdemeanour" rather than a serious criminal act. "This case has been going on since May, the two want to go home immediately."
A spokesman for the British embassy in Jakarta said: "We can confirm that we are providing consular assistance to the two British journalists currently detained in Batam, Indonesia and are in contact with their families and legal representatives."
Bernard and Carmel Prosser told The Guardian: "We love Becky very much and are so proud of her. We miss her very much and hope she will be hope with us soon."
Bonner's mother, Barbara Shaw said: "Neil is bearing up OK under the circumstances. Neil is heartened by the incredible support he's received - letters from people all over the world. It just shows what a good man he is."