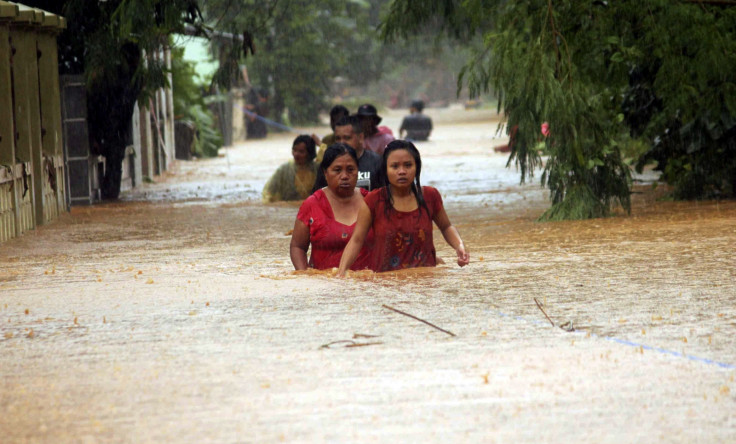 Rescuers report that 76 people are missing and 32 are dead after a series of landslides hit Indonesia.
"The rescue team has found 32 bodies... and is still searching for 76 people buried in the landslide," Sutopo Purwo Nugroho, spokesman for the National Disaster Management Agency said in a text message to the Associated Press.
Torrential rains set off a landslide that swept away a village, as rescuers were forced to dig out survivors with their hands.
Locals of Jemblung village in Central Java province's Banjarnegara district reported hearing a roaring sound followed by the rain of red soil.
"The landslide looked like it was spinning down. I managed to rescue a pregnant woman, but could not save the other man," said Subroto, a rescuer at the scene.
He said in an AP report that one side of the hill collapsed and then another. "In five minutes, there were three (major landslides) and they swept away everything," he said.
By Sunday, at least 20 bodies were removed from the mud and there is little hope that those still missing will be find alive, said Nugroho.
The spokesman for the National Disaster Mitigation Agency said on Saturday that some rescuers heard what sounded like cries for help coming from the debris and wrecked houses, but they didn't have equipment to dig.
"Mud, rugged terrain and bad weather hampered our rescue efforts," Nugroho said.
"It was like a nightmare... We suddenly heard a terrible roar and we were immediately fleeing from the rain of red soil," said Wahono, a resident who survived with four family members. "Many failed and they were buried in the ground."
He reported hearing people screaming and pleading for help in the heavy rain and as darkness fell. But he said he was could do nothing to help except escape with his family to safety.
Seasonal rains and high tides over the past few days have caused dozens of landslides and flooding across much of Indonesia, where millions of people live in mountainous areas or near fertile flood-prone plains close to rivers.
There were 2,000 rescuers involved in the operation on Sunday, including police, soldiers and volunteers.
"We hope we can operate all of the heavy equipment today," he told Reuters. "We could not operate the equipment soon after the landslide. We had to be very careful about the stability of the ground."
President Joko Widodo arrived in Central Java's provincial district of Banjarnegara on Sunday.
"Earlier I visited the landslide site in Banjarnegara to look at the situation there. Although logistical support has been provided, the evacuation process must be strengthened and hastened," he wrote on his Facebook page.
"I urge Indonesians to be vigilant as there are hundreds of locations around us which are prone to landslides," he added.