Indonesia sinks impounded foreign boats to celebrate 71st anniversary of Independence Day
Officials refused to provide countries of origin of targeted boats but reports claimed some were Chinese.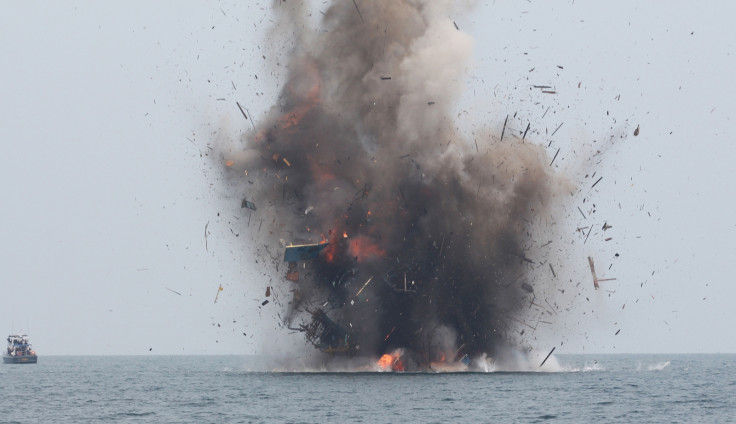 To commemorate the 71<sup>st anniversary of Indonesia's Independence Day, the southeast Asian country sank at least 60 impounded foreign boats. The government said the action marked Indonesia's commitment to "enforcing the law" amid attempts to stop foreign fishermen from "stealing" from its waters.
Ahead of the anniversary on 17 August, a former foreign minister Marty Natalegawa said Indonesia needed to convey the message that the country was determined to defend its national sovereignty, as well as its territorial integrity. However, Natalegawa also raised concerns over misinterpretation of the symbolic act.
Indonesia's Fisheries Ministry Official, Mas Achmad Santosa, stated: "Today we offer 60 boats. This is a gift [for Indonesia] and goes to show our consistency in enforcing the law."
This is not the first time that Indonesia has indulged in boat-sinking events, however, this episode was not broadcasted on national television as it was on previous occasions. Instead, the media was banned from attending the ceremony and government officials refused to provide details on the countries of origin of the targeted boats, although some reports indicated that Chinese boats had been among them.
Earlier this year, Indonesia destroyed 23 foreign boats by blowing them up in a public display broadcast on the Internet. The southeast Asian country has destroyed more than 170 foreign vessels from a number of nations since 2014 as part of its attempts to fight Chinese claims to the waters surrounding the Natuna Islands.
On the eve of Independence Day, President Joko Widodo restated his pledge to defend Indonesia's land and maritime territory. In an address to the country, he also stressed that Indonesia was "actively involved" in the South China Sea dispute and securing a peaceful solution over the ownership.
President Widodo stated: "We are developing regions like Entikong, Natuna, and Atambua so the world can see that Indonesia is a big country, and every inch of its land and water is truly taken care of."
Apart from the show of force, Indonesia also celebrated its 71<sup>st independence anniversary by parading the country's original flag — first hoisted on 17 August 1945 — to the presidential palace for the first time in decades.
The parading of the "bendera pusaka" (sacred flag) was watched by thousands of Indonesians who gathered along the streets to catch a glimpse of it. The flag was brought in a horse-drawn carriage and escorted by a flag hoisting team that consisted of cavalry troops alongside of some of the best students in the country.
© Copyright IBTimes 2023. All rights reserved.